Is it just me or is this summer flying by at record speed? My daughter Sadie will finish day camp this week, and in a few weeks' time our family will embark on our annual end-of summer vacation, to which I'm very much looking forward. Before we know it, September will be here and my kids will be back in school, with Sadie headed to 4th grade and Ben starting kindergarten (I know, how did this happen?). I've actually been ahead of the game when it comes to ordering new school uniforms and shoes for the kids in advance of our vacation, but I've yet to sit down and come up with a game plan for juggling the task of getting both kids to and from two different schools with the exact same start and dismissal times, as well as figuring out Sadie and Ben's myriad extracurricular activities. It's all a bit overwhelming, and I've been searching for a way to keep everything together without going too crazy in the process. Fortunately, the folks at School Specialty have come to the rescue with a trio of organizational and inspirational ideas designed to keep not only parents, but also teachers and students, well stocked and supremely organized for the upcoming school year. We're all familiar with the basic school supplies of paper, pencils, folders and the like, but as the School Specialty team points out, there's a wealth of other resources that go beyond the basics to assist parents, teachers and kids with the sometimes daunting task of pulling off the start of the new year with aplomb.

We were fortunate to receive a sampling of some of these back-to-school lifesavers, all available via SchoolSpecialty.com, and I'm looking forward to putting them to good use come September and beyond. From items to help me set up an at-home "command center" to unique and useful products to get my kids' school year started on an energetic note to helpful additions to the classroom that my kids' teachers will truly appreciate, the School Specialty team truly hit it out of the park. Here's a rundown of what we received and the ways in which you can put these "beyond the basics" tools and supplies to good use at home and in your kids' classrooms this fall:

For Parents: An At-Home Command Center
It's all I can do to keep up with getting my kids to and from school and their various extracurricular pursuits, so I'm not quite sure what possessed me to volunteer to be a class parent this year, but I'm nevertheless excited to embrace this new role and be as involved as possible in Ben's kindergarten endeavors. This will of course require even more organization on my part, which is no small feat given my predilection for clutter, but I'm determined to make it work, and I've now got quite a bit of help thanks to my School Specialty supplies. I'll now be able to plan out my weeks and keep track of important dates with the At-A-Glance planner, while noting important reminders and dates for our entire family to see on the dry erase board (using the colorful chalk markers, of course). Labeling is essential when it comes to making sure everything my kids bring to school comes back with them, so the Post-it Full Adhesive Roll will come in particularly handy in that regard. I'm a firm believer that you can never have too many pens and paper clips around the house, so of course I was particularly excited about the School Smart Clip and Pin Set and the colorful Paper Mate pens, which will be proudly displayed in the X-Cube Storage Organizer. All told, these handy supplies will allow me to customize our home "command center" and (fingers crossed) make sure that nothing slips through the cracks! I'll also be looking to the School Specialty blog for more tools and tips on organizing my workspace and hopefully achieving peace of mind during this upcoming school year.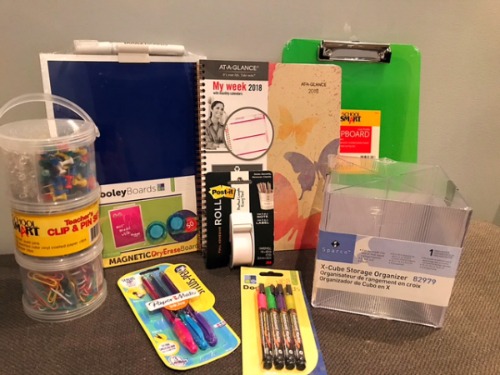 ​
For Students: Bring Extra Energy and Color to the Start of the School Year

I'll confess that I'm not the most organized person, but I come off as a Type-A organizer extraordinaire when compared to my kids, who have the unique ability to create instant chaos in nearly every space they occupy. I've long since given up on trying to get my kids enthused about keeping their belongings organized, but I am excited to help them bring some extra energy to the start of their new school year with a selection of unique and useful items we received from the School Specialty team, as well as a set of helpful tips located on the SchoolSpecialty.com blog. After all, a new school year is a chance to start fresh and reinvent yourself, and I'll take any opportunity to help my kids kick their school year off on the right foot. The noise-canceling headphones will hopefully help Sadie drown out the noise of Ben's 5-year-old antics as she concentrates on her homework, while I'm eager to help tame the likely stream of worksheets and kindergarten artwork Ben will bring home in his snazzy new zip-close binder, which is a far cry from the boring binders of my childhood! Both Sadie and Ben have exhibited a keen aptitude for math, so I'm excited to help them sharpen their skills with the Mindware BrainBox math game, and, since the start of a new school year can be stressful on kids and parents alike, I'm hoping my busy city kids will pause to embrace their inner zen with the uber cool (and blissfully mess-free) Buddha Board. Who knows? Maybe in all that inner peace they'll find a bit of motivation to create some semblance of order in their bedrooms? Hey, a mom can dream, right?

For Teachers: Tools to Show Your Appreciation and Support
I honestly don't know how teachers stay focused and organized on a daily basis. It's all I can do to keep up with my two kids, so the idea of being responsible for nurturing and teaching an entire classroom of kids is daunting, to say the least. The folks at School Specialty clearly appreciate the fact that a student's greatest asset in the classroom is his or her teacher, and they've put together a handy blog post, as well as a set of helpful tools and supplies, to help teachers make educating our kids a positive and memorable experience. From an ingenious Bouncy Band for fidgety students to a set of colorful file folders to a lesson plan book to a Post-it Notes dispenser that doubles as a photo frame to a huge stack of Astrobrights paper to an always necessary new set of dry erase markers and more, this ensemble of School Specialty items will not only offer Sadie and Ben's new teachers a chance to add creativity and innovation to their classrooms, but will also help us demonstrate our appreciation for the fabulous education and nurturing environment these top-notch educators will provide Sadie and Ben throughout the upcoming school year.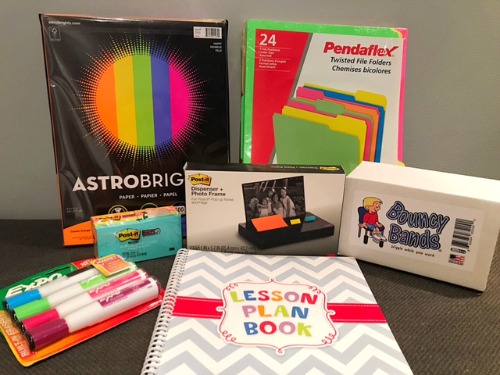 ​
All told, the value and breadth of educational tools and supplies available via SchoolSpecialty.com is truly astounding. The resources go well beyond the basics and will be invaluable in getting you and your kids excited for the start of a new school year, and I highly recommend visiting the site to round out your back-to-school shopping list. Be forewarned, however, that once you start shopping the site and discover all the awesomeness that School Specialty has on offer, your list is sure to grow exponentially! For more information, visit SchoolSpecialty.com.
Disclosure: This is a sponsored post for which I received compensation. The opinions expressed herein are, as always, entirely my own.