It's almost impossible to fathom how much our lives have changed over the past five months, and the ways in which they'll never be the same again. In addition to spending time with family and friends and being able to go about our lives without fear of contracting a deadly virus, one thing my family has missed tremendously is our frequent travel to locales both near and far. Travel has become such an important part of our lives, and I've seen the myriad ways travel has had a positive impact on my kids as it opens them to new cultures, foods, and historical perspectives that they could never glean solely from a book. Now that things are starting to open up again and the numbers in NYC are (knock on wood) significantly better than they were just a few months ago, my family is starting to warm up to the idea of embarking on a brief trip outside the city at some point this fall. Of course, when planning such a trip, we'd keep COVID-19 concerns top of mind, which for our family means avoiding air travel and public transportation, limiting our trips to destinations either within the state of New York or nearby states whose virus numbers are within a range within which we feel comfortable and are not included on New York's quarantine list, staying in hotels that have made a commitment to maintaining the highest standard of cleanliness, engaging mostly in outdoor activities, and visiting only those attractions that are implementing and enforcing social distancing and other safety measures. I can't say that it will be a perfect system, but I think that if we strictly adhere to these guidelines, I'd feel comfortable resuming our family's travels in the very near future.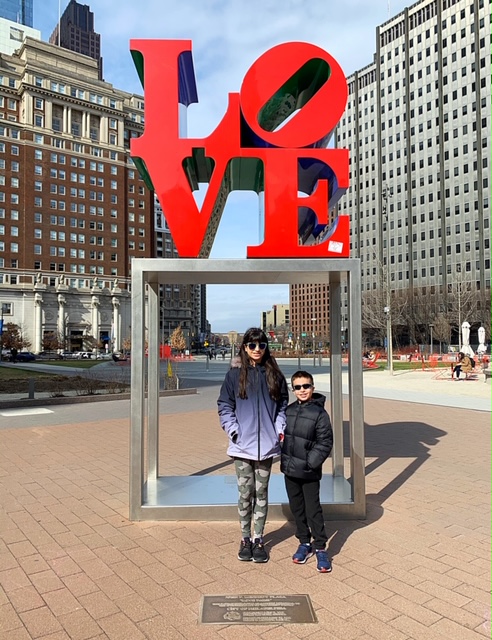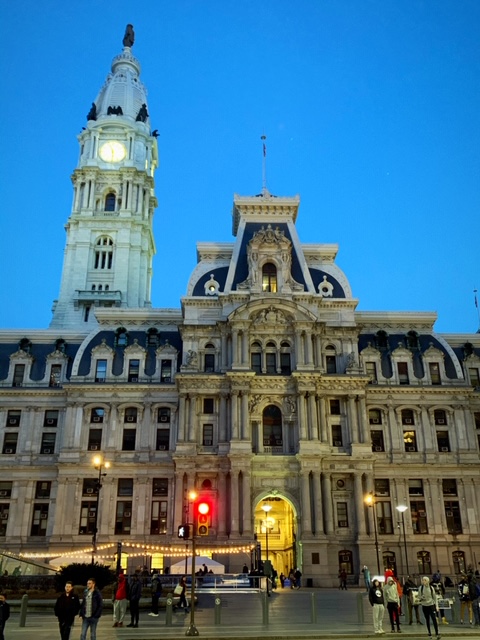 Not surprisingly, my kids can't wait to get back to travel, and the first place they've requested to visit once we're able to do so is the historic and endlessly engaging city of Philadelphia, which happens to be just a quick 90-minute drive from Manhattan. We were fortunate to visit the City of Brotherly Love back in February (aka the "Before Times") thanks to our friends at Go City, and our brief but whirlwind trip left us eager to return to explore even more of what Philly has to offer. And when it comes to exploring Philadelphia, you'd be hard-pressed to find a better and more affordable way to partake in the city's myriad attractions and activities than with the purchase of a Go City pass. With Go City's Go Philadelphia pass, you pay one set price for the pass (which you can download directly to your phone) and can then enjoy flexible admission to more than 35 attractions, tours and experiences within and around Philadelphia. The price of the Go Philadelphia pass represents a significant savings over the standard admission prices to the included attractions, and there are three different types of passes available, which allows you to customize your experience depending on the length of your visit and the number of attractions you wish to experience. As an added bonus, having the Go Philadelphia pass right on your phone lets you skip the admission lines at most attractions, meaning you can head straight in and get right to exploring.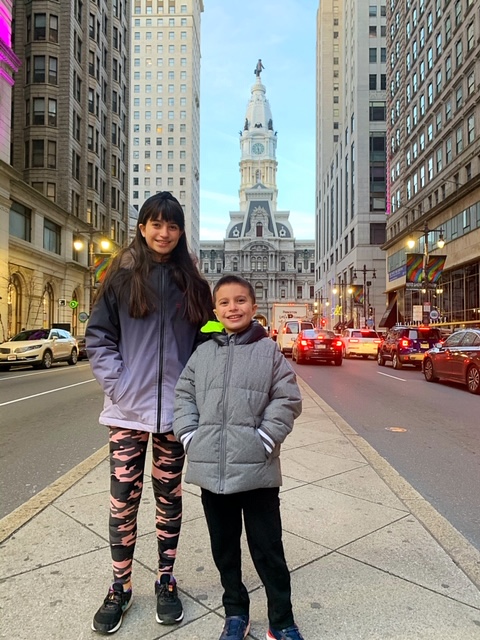 For our trip to Philadelphia, we opted for the 3-day, All-Inclusive Go Philadelphia pass, which is currently on sale for $109 for adults and $74 for kids ages 3-12 and which includes admission to a mind-boggling array of Philadelphia's best attractions and experiences, including The Franklin Institute, the Philadelphia Zoo, the Philadelphia Museum of Art, Adventure Aquarium, Big Bus Philadelphia, the Museum of the American Revolution, the National Constitution Center, a History and Cheesesteak Tour, LEGOLAND Discovery Center Philadelphia, and much more. All of the attractions and experiences included in the pass were open at the time of our visit, but of course you'll want to check with each specific attraction prior to your trip to ascertain its current opening status and the COVID-related steps each attraction and experience has implemented to ensure the safety of their guests. Given the current circumstances, Go City has made all of its passes valid for 2 years from the date of purchase, and they've included free 30-day cancellation, meaning you can buy a pass now to take advantage of the summer sale and use it at a later date when you're ready to travel.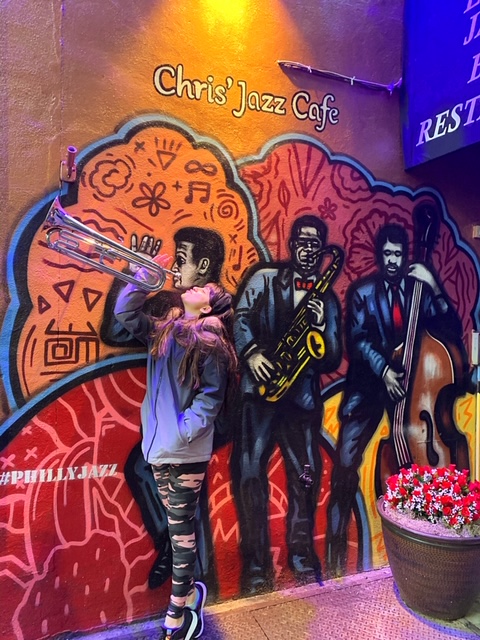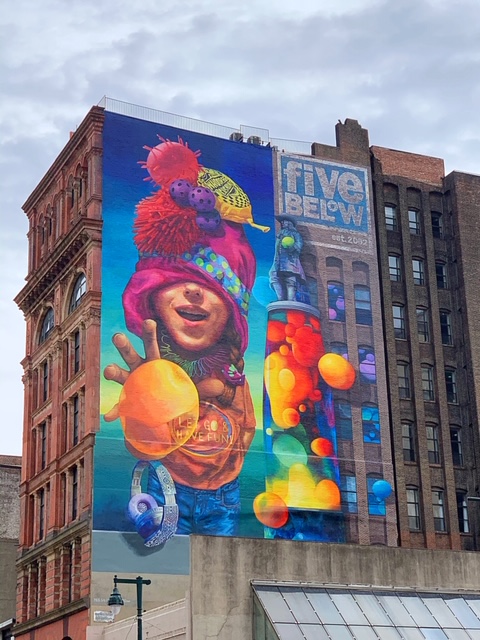 Our Go City trip to Philadelphia got off to an auspicious start when we encountered a surprising lack of traffic en route to our destination. In less than two hours, we'd arrived at the Residence Inn Philadelphia City Center, which served as the perfect jumping-off point for our Philadelphia adventure. The Residence Inn put us within walking distance of a multitude of Philly's best attractions, including Reading Terminal Market, one of the largest and oldest public markets in the country. Opened in 1892, this sprawling indoor market plays host to over 80 vendors serving up some of the most delicious food Philly has to offer, so you'll definitely want to bring both your appetite and a good deal of patience, as the lines for some of the most popular purveyors can get quite long.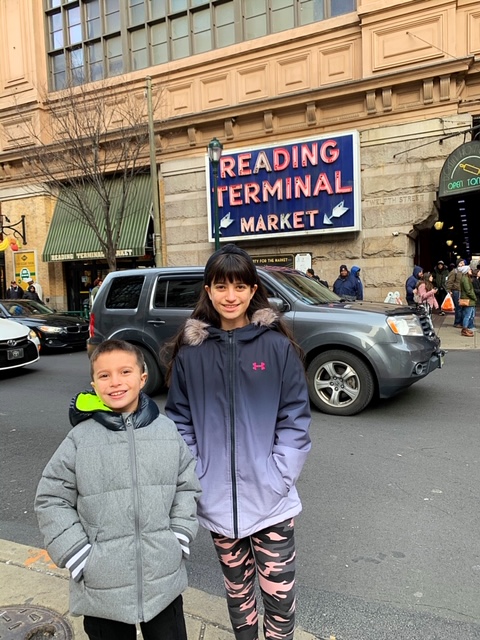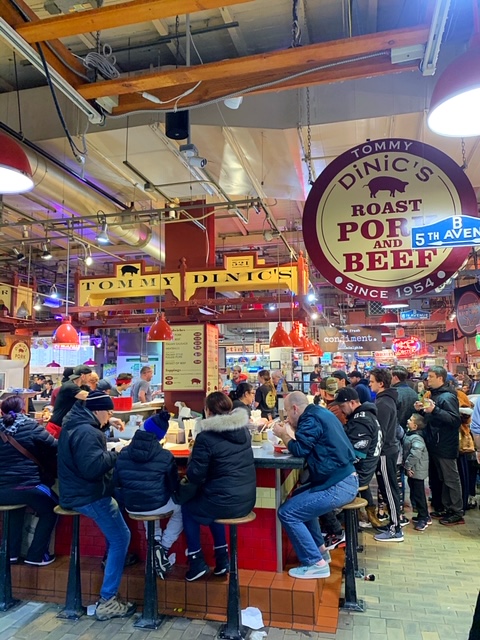 We had hoped to sample some of the tasty confections from Beiler's Doughnuts, but the line stretched all the way down and around the market, so we decided to skip it for this trip and instead indulged in several other Reading Terminal Market delights, including buttery soft pretzels and fresh lemonade from Miller's Twist, roast pork sandwiches from DiNic's, and whimsical whoopie pies from Flying Monkey. It was the perfect first taste of Philly, and one that left us eager to sample even more of the city's culinary delights. Fortunately, Reading Terminal Market is only a stone's throw from two of Philadelphia's most popular food destinations - Federal Donuts and Dizengoff, where we discovered some of the best donuts and freshest hummus and pita we'd ever had the pleasure of tasting. COVID NOTE: Reading Terminal Market is currently open, but no food or drink may be consumed inside the market (outdoor tables are available). Masks are required at all times.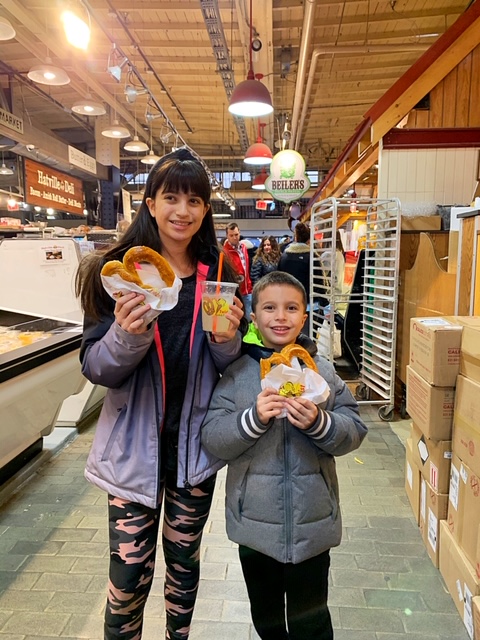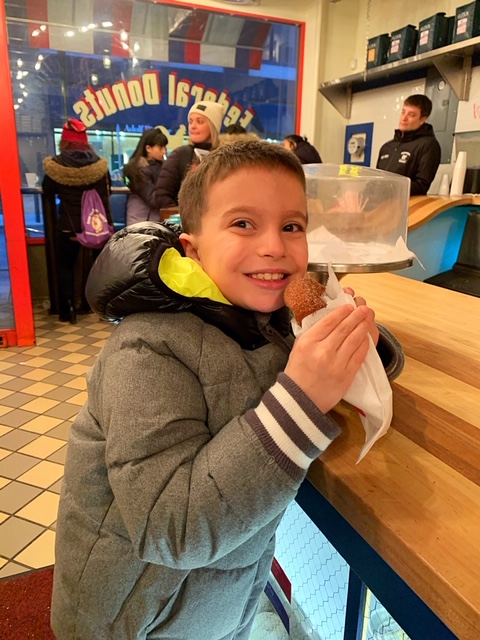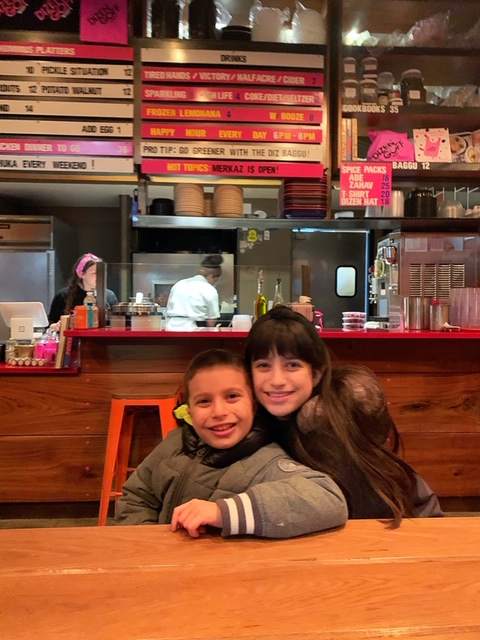 Needless to say, our early evening food outing made for a very good night's sleep, and we awoke refreshed and ready to dive into Philadelphia's rich history and captivating attractions. Thanks in large part to their love of Hamilton, both Sadie and Ben have developed a keen interest in all things pertaining to the early history of the United States, so they were beyond excited to visit Independence Hall, where both the Declaration of Independence and the United States Constitution were debated and adopted. Located within Independence National Historic Park, Independence Hall is open to visitors via ranger-led tours, which are offered free of charge. From March 1st through December 31st, you'll need to secure a free timed ticket to participate in a tour, while in January and February or after 5pm during extended summer hours, tickets are not required. Regardless of when you visit, be sure to stop in at the Independence Visitor Center when you arrive in order to pick up a Junior Ranger Activity Booklet, which contains a variety of activities for kids ages 5 and up to complete in order to earn a Junior Ranger certificate and badge.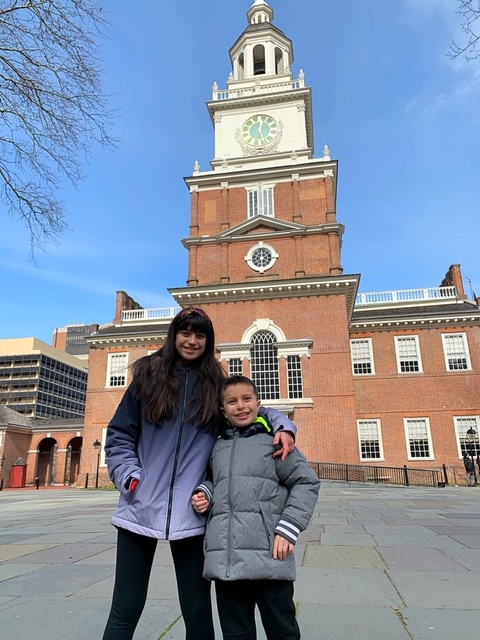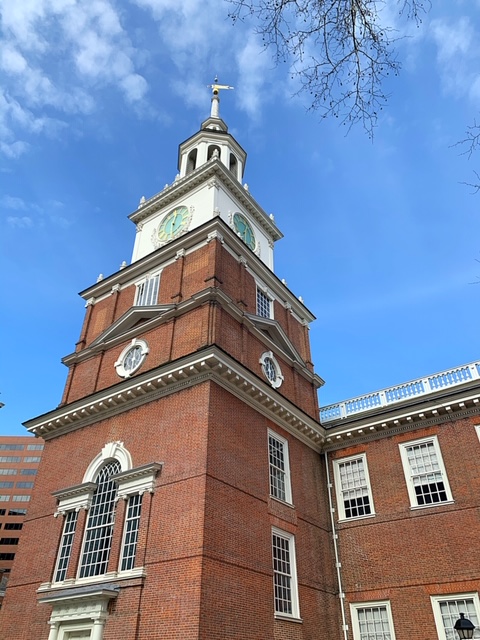 While we waited in line for our tour, we were able to take in Independence Hall's historic setting, and we marveled at the fact that we were standing in the exact spot where the Declaration of Independence was first read aloud to the citizens of Philadelphia on July 8, 1776. Our eyes grew even wider when our affable tour guide led us into the Assembly Room of Independence Hall, where we stood in awe of the fact that we were within the same walls that played host to the drafters of two of our nation's most important founding documents. The room is set up exactly as it was during the meeting of the Constitutional Convention, complete with the Rising Sun chair in which George Washington sat as he presided over the proceedings. It really is quite the sight to behold, and an absolute must when visiting Philadelphia.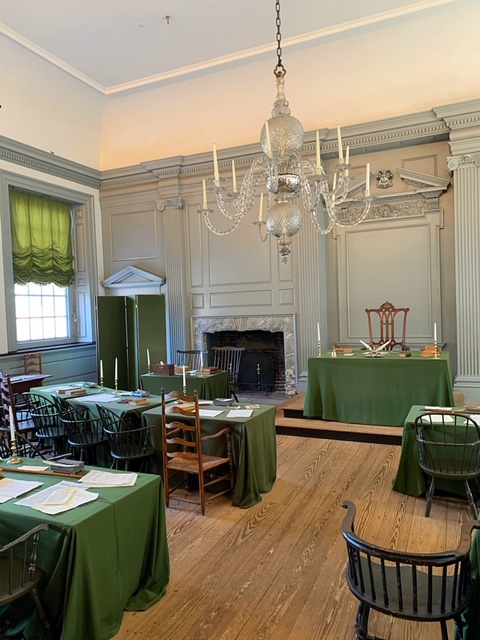 Following our tour of Independence Hall, we made our way across the street to view another iconic Philadelphia treasure - the Liberty Bell. Formerly known as the State House bell, the Liberty Bell hung in the tower of the Pennsylvania State House (which is now called Independence Hall) from 1751 until 1846, during which time it was rung to summon lawmakers to their meetings and to alert the townspeople to come together to hear the reading of the news. After almost 90 years of use, the bell developed a crack, and the subsequent attempt to repair the crack caused an even wider fissure, resulting in the bell's retirement from service. Visitors can now view the Liberty Bell free of charge, and, although the bell is securely guarded, we were pleasantly surprised by how close we were able to get to this important symbol of freedom. COVID NOTE: Independence Hall and the Liberty Bell Center are both currently closed to visitors, but the outdoor areas of Independence National Hall Park remain open. Check the park's website for updates and re-opening notices.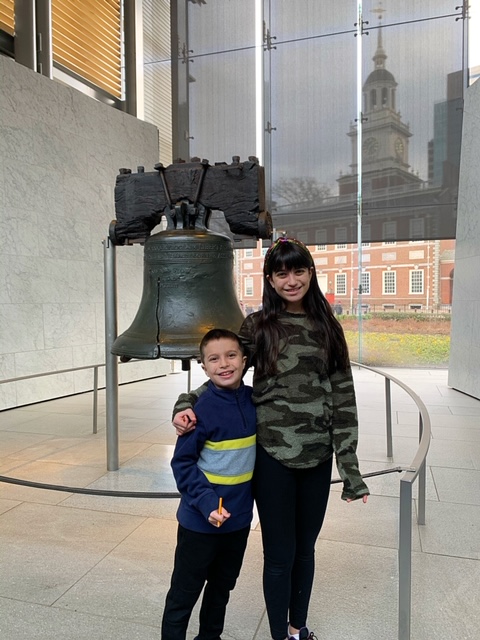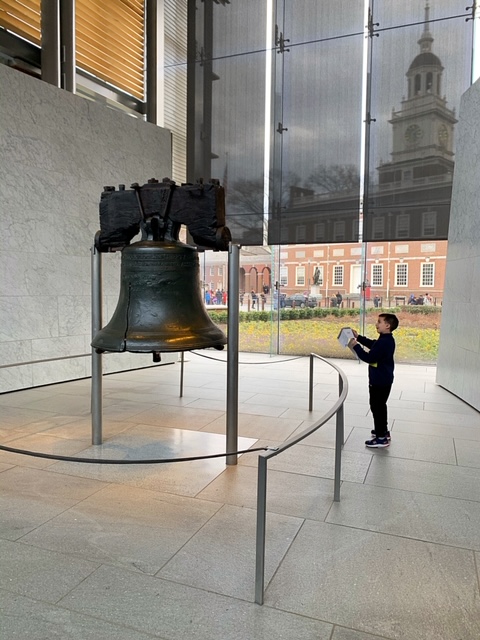 Our history lesson continued at our next stop, the Museum of the American Revolution, which tells the story of our country's founding via an astonishing array of hands-on exhibits, historical artifacts, immersive multimedia experiences, recreated historical scenes, and more. With our Go Philadelphia pass, we were able to bypass the ticket counter and head straight into the museum, which saved quite a bit of time and allowed us to get right to exploring. From the moment we set foot in the first exhibition, we knew this museum would be unlike any other we'd ever visited, and my little Hamilton fans were completely in their element as they stood beneath the lanterns and lanterns of a full-size reproduction of the Boston Liberty Tree, held a real Revolutionary War musket, stepped into the front lines of the American Army during a British infantry charge in the immersive Battlefield Theater, climbed aboard a life-size replica privateer ship, gleaned insight from a museum educator on the effort by the British to entice enslaved people to their side with the promise of post-Revolution freedom, charted the action of the war on an interactive map, experienced the thrill of seeing the actual tent utlized by George Washington during the Revolutionary War (I couldn't believe how well preserved it was!), and gained new appreciation for the difficulties surrounding the task of creating a new government following the victory at the siege of Yorktown.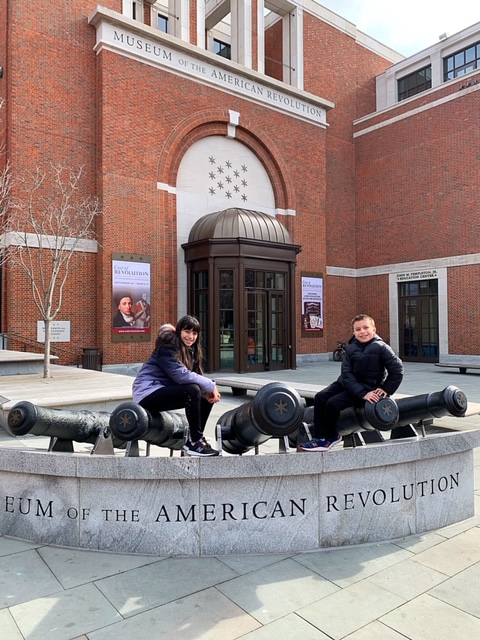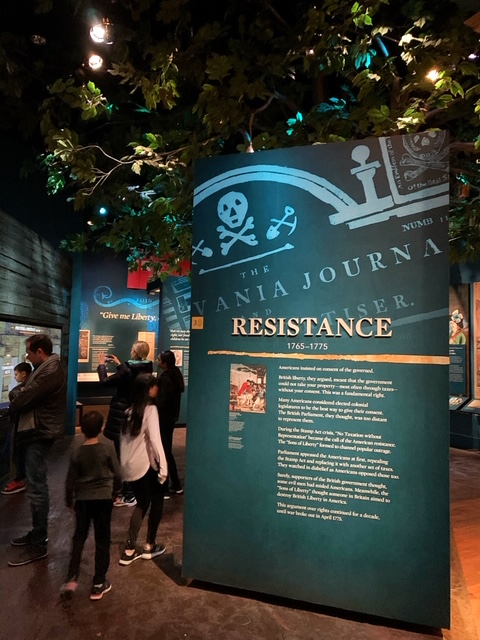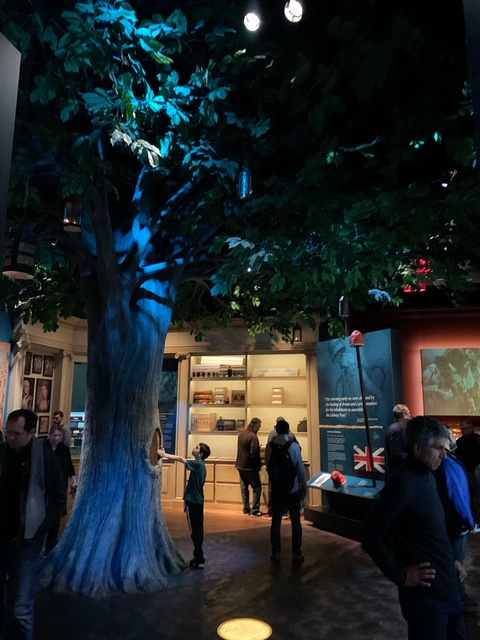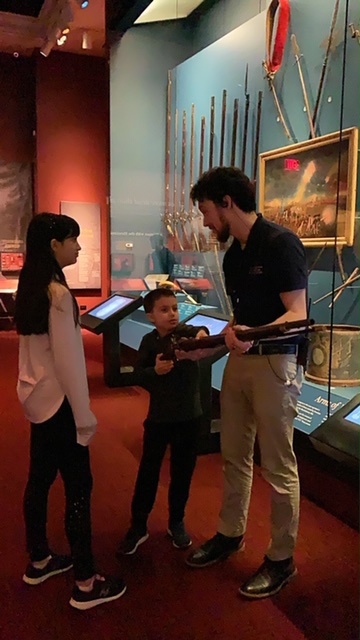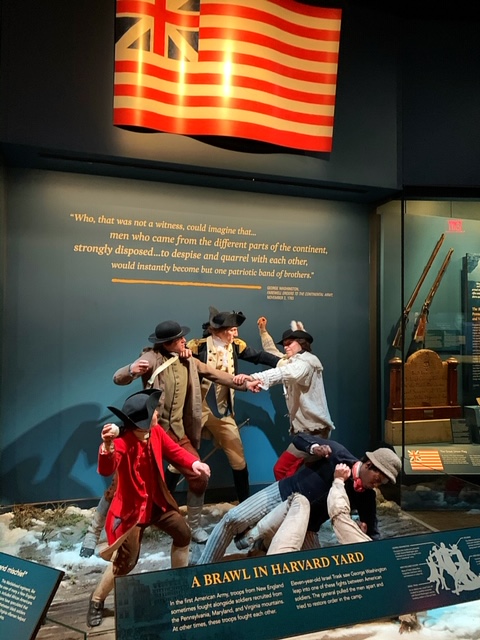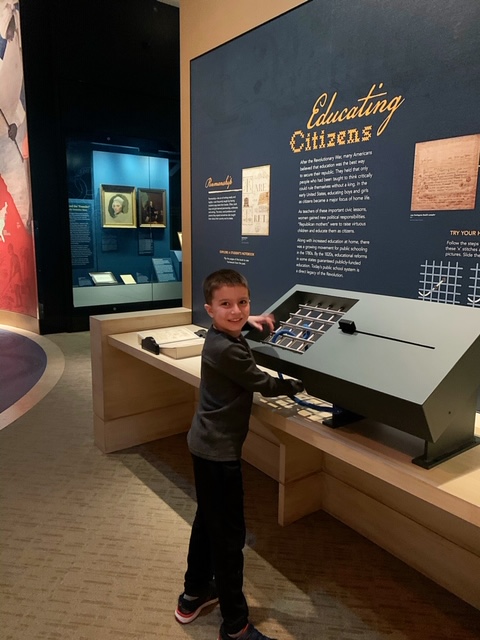 Although they were a bit on the older side for it, the kids also got a kick out of Revolution Place, the museum's hands-on discovery center, which brings colonial Philadelphia to life with four immersive environments, including a military encampment, a tavern, a place of worship, and a home. The Museum of the American Revolution was one of the best museums we've ever visited, and we could have easily spent the entire day there. I was so impressed with the museum's ability to convey the history of the United States and the American Revolution in a way that was not only easy for kids of all ages to understand, but also had my kids engaged and excited in a way that I never would have thought possible in a venue dedicated to history. COVID NOTE: The Museum of the American Revolution is set to re-open on September 3rd with reduced capacity, timed entry, and enhanced health and safety protocols in place.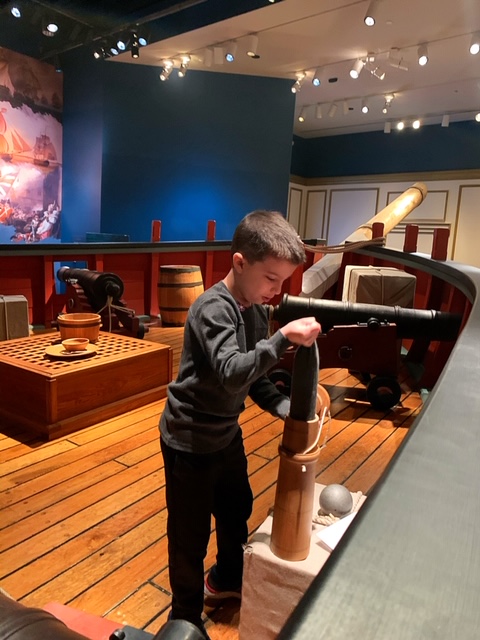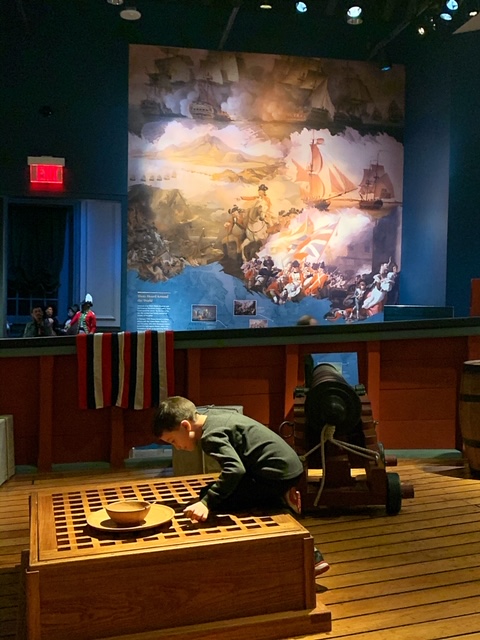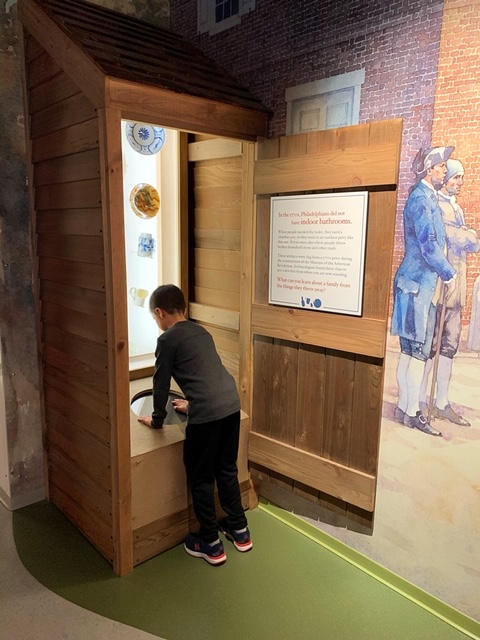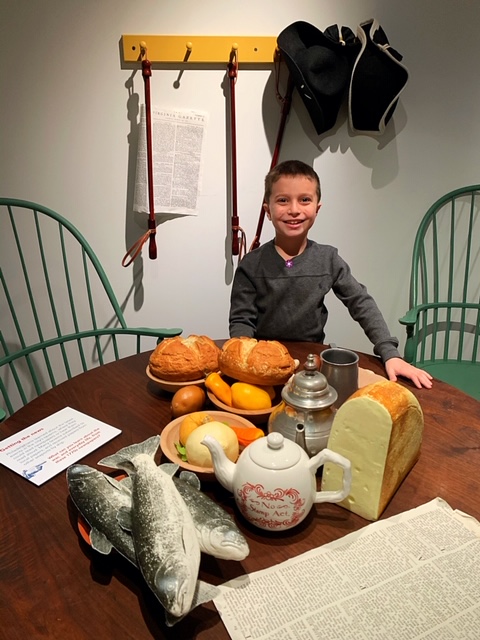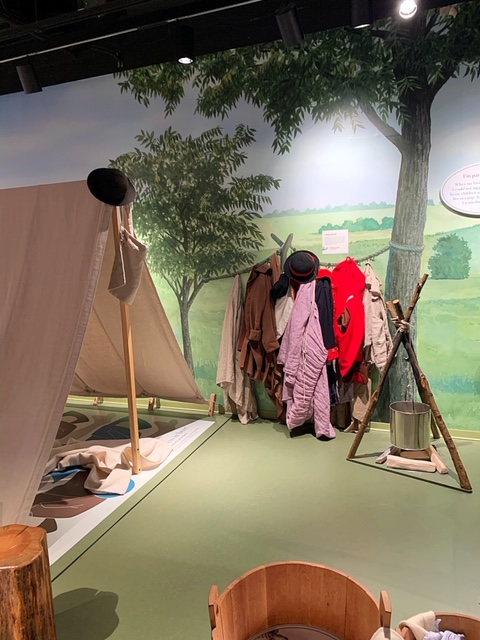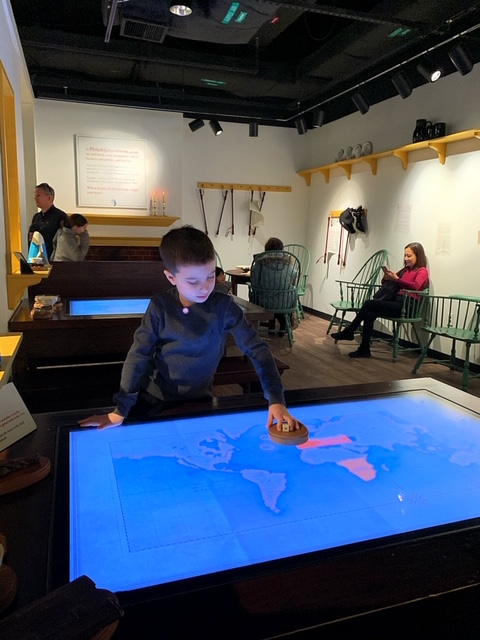 Sadie and Ben emerged from the Museum of the American Revolution eager to learn even more about our nation's founding and history, so we paid a visit to the National Constitution Center, an interactive museum that brings the Constitution to life through a series of immersive exhibits, interactive shows, and live performances. Entry to the center was a breeze, as it was included in our Go Philadelphia pass, so all I had to do was open the app and have our pass scanned at the ticket counter. I'll confess I was a bit nervous as to whether a museum focused solely on the Consitution would be a draw for my 12-year-old and 8-year-old, but any concerns I had were quickly laid to rest the moment we set foot in the theater that houses the center's signature attraction - Freedom Rising. At just 17 minutes in length, this 360-degree multimedia live theatrical production served as the perfect introduction to the museum for my kids, and we all left the theater excited to check out The Story of We the People, the center's main exhibit, which guides visitors through the story of the origin and evolution of the Constitution from its drafting right up to present day.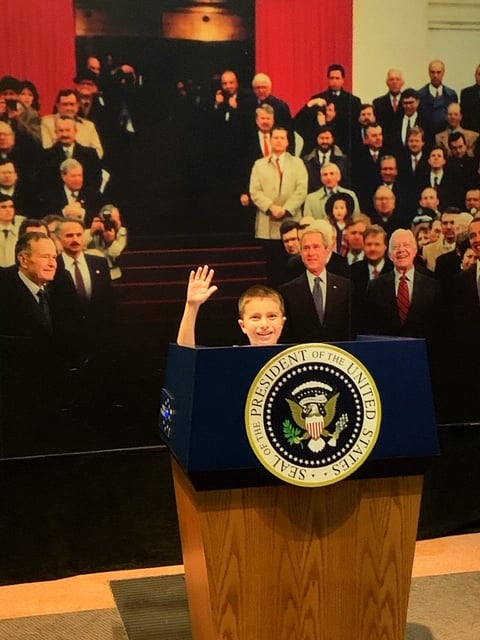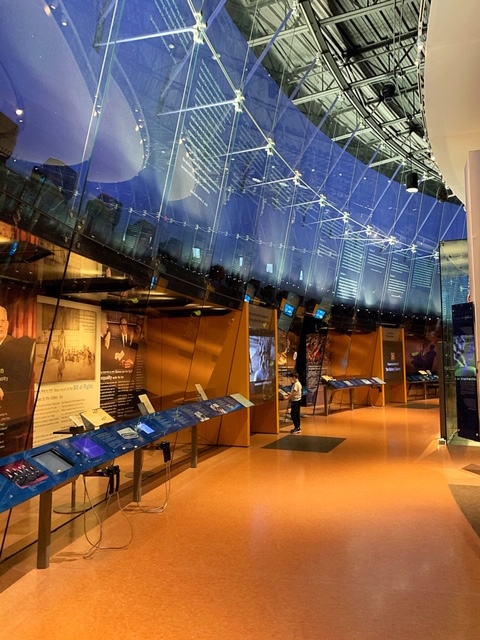 From separation of powers to ending slavery to the suffrage movement to the Civil Rights movement and more, the exhibit was both timely and fascinating, and I particularly loved that there were so many hands-on, interactive aspects that kept my kids completely engaged. They both got a huge kick out of taking the Presidential Oath of Office, casting their vote in an actual voting booth, viewing Sandra Day O'Connor's Supreme Court robe, seeing a rare copy of the Emancipation Proclamation, and checking out the other artifacts on display, which brought a number of historic moments to life for them in a way that me telling them about it or reading about it in school can't quite accomplish. Unfortunately, we got to the National Constitution Center late in the day and didn't have time to check out Signers' Hall, which contains life-size bronze statues of the Founding Fathers who signed the Constitution (as well as those who dissented) on September 17, 1787. We were disappointed to miss walking among George Washington, Ben Franklin, James Madison, and Alexander Hamilton, but this just gives us all the more reason to make a return visit to the National Constitution Center. COVID NOTE: The National Constitution Center is open, with social distancing measures and enhanced health and safety protocols in place. Timed tickets must be reserved online in advance.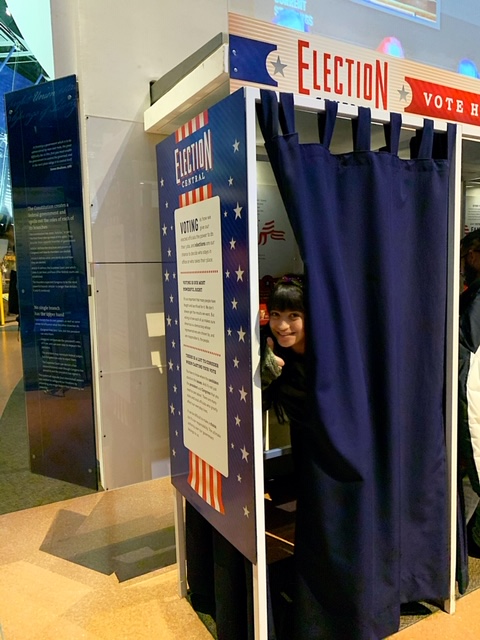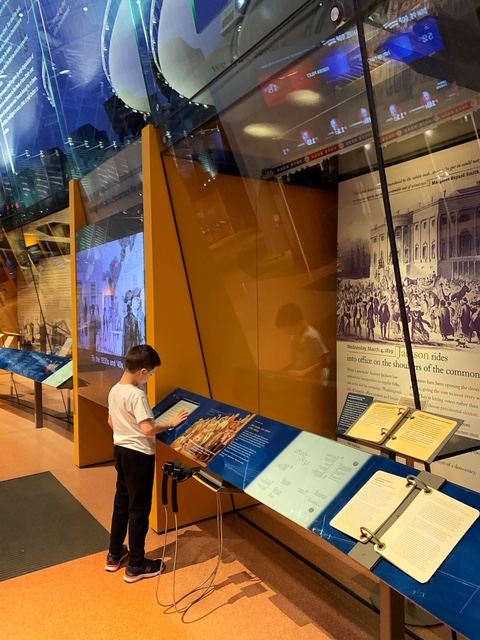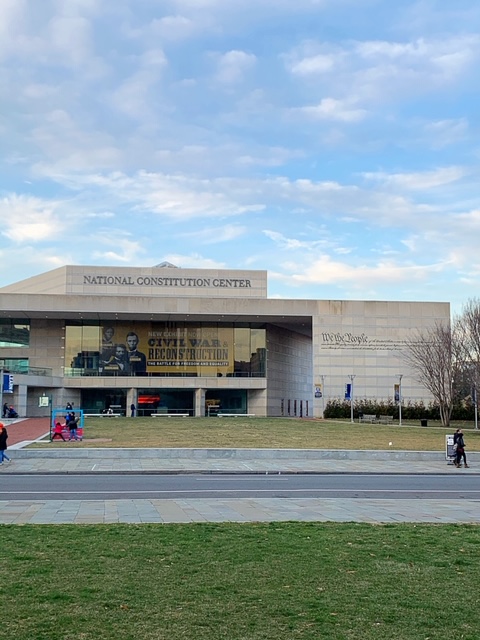 Having immersed ourselves in the origins of American freedom, we went to the opposite spectrum with a visit to Eastern State Penitentiary, which at one time was the most famous and expensive prison in the world, having housed some of America's most notorious criminals, including bank robber "Slick Willie" Sutton and Al Capone. Opened in 1829 and long since abandoned, Eastern State Penitentiary today maintains its towering exterior and soaring Gothic Revival architecture, while its crumbling cellblocks and empty guard towers serve as a reminder of the austere conditions in which prisoners were housed. As we approached Eastern State, Sadie and Ben gasped in amazement, as the prison's imposing, fort-like architecture stands in such stark contrast to the quiet residential neighborhood in which it sits. Our Go City Philadelphia pass scored us admission to Eastern State Penitentiary as well as a complimentary self-guided audio tour narrated by actor Steve Buscemi and including commentary from former inmates, guards and various people involved in studying and preserving this iconic landmark. Eastern State was the worl'd first true "penitentiary," designed solely to inspire true regret in the hearts of criminals rather than to merely punish them, a goal which is very much evident in the prison's vaulted, sky-lit cells, which emphasized solitary confinement and abundant opportunity for self-reflection.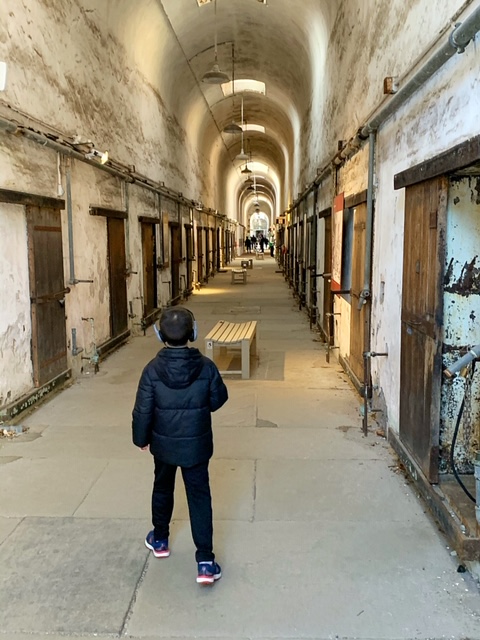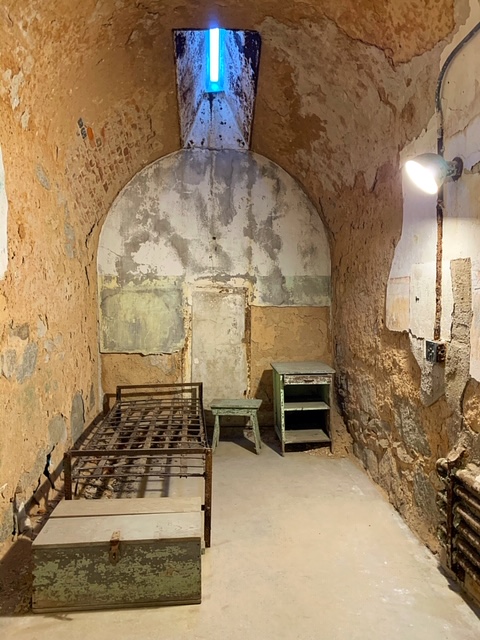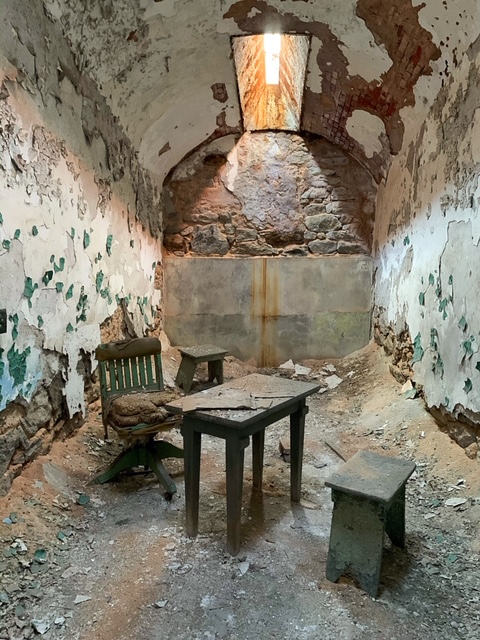 An abandoned prison might not seem like a traditional choice for a family vacation stop, but Sadie and Ben were completely fascinated by the experience, and Ben in particular got a huge thrill out of learning about the prisoners who were housed at Eastern State, as well as some of the more daring escape attempts, while Sadie and my husband were intrigued by the on-site synagogue. And of course, we all got a kick out of seeing the cell in which Al Capone spent his time at Eastern State. COVID NOTE: Eastern State Penitentiary is currently open with reduced capacity and limited hours. Timed entry tickets must be reserved online and all visitors age 2 and up must wear a mask at all times. Visitors must follow a one-way route for the self-guided audio tour.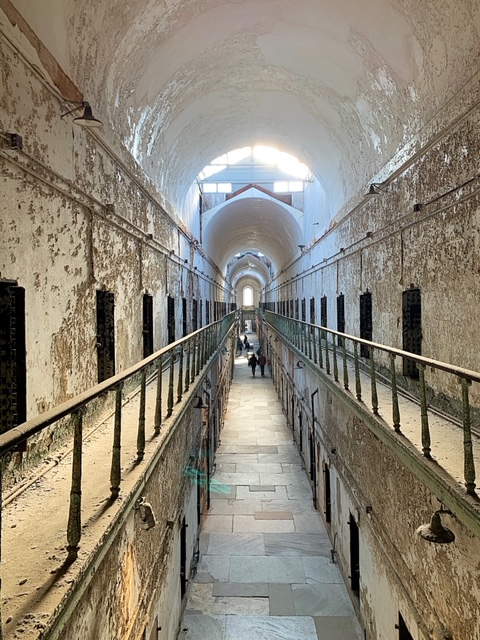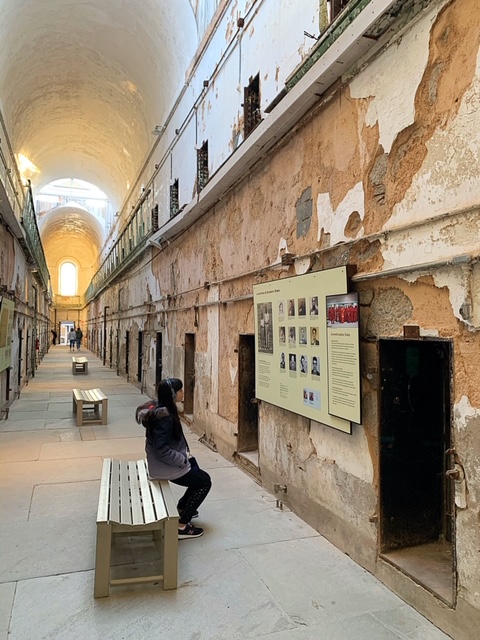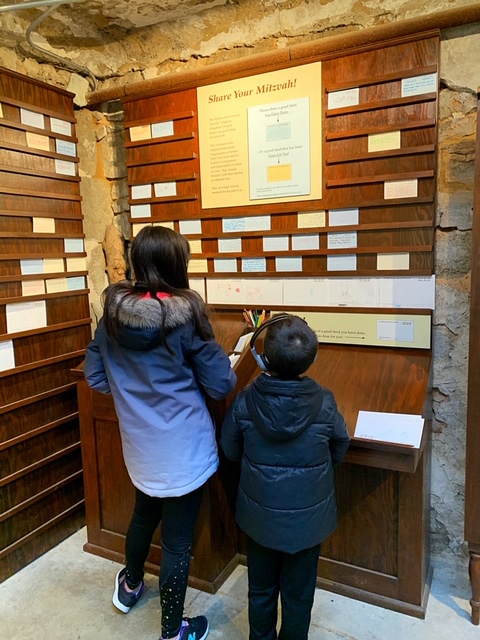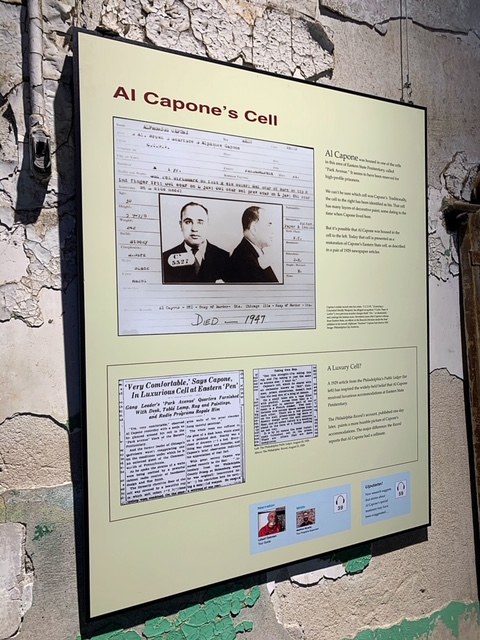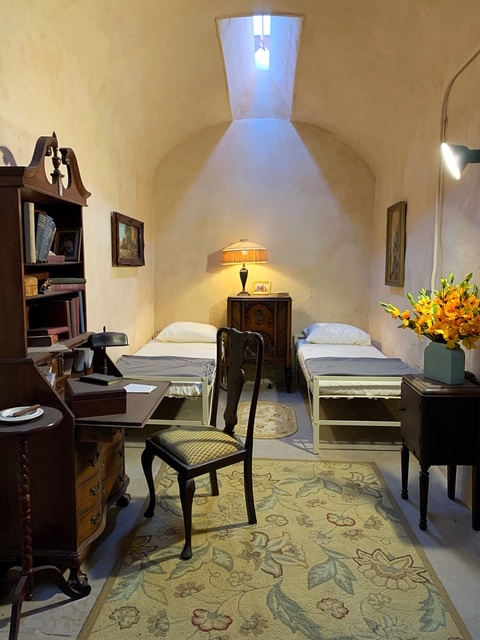 The sun was just beginning to set as we concluded our visit to Eastern State Penitentiary, so we decided to make a quick stop at One Liberty Observation Deck in order to view Philly from an entirely new perspective. Located high atop an office building in the Center City area of Philadelphia, One Liberty Observation Deck offers sweeping views of iconic sights such as City Hall, the Ben Franklin Parkway, the Ben Franklin Bridge, the stadium complex, University City, and the greater Philadelphia area.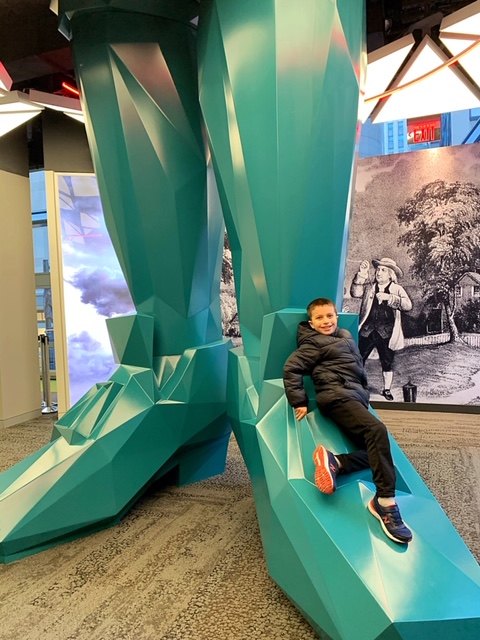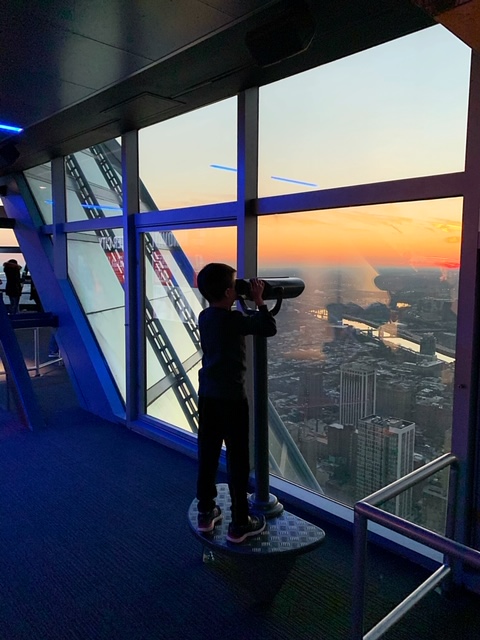 After scanning our Go Philadelphia pass at the ticket booth, we were ushered into a state-of-the-art elevator experience, which whisked us up 57 floors to an enclosed observation deck, where we were treated to a 360-degree view of the City of Brotherly Love. It was truly a sight to behold, and the kids quickly got to work exploring the city from above with the help of the six touch-screen monitors located throughout One Liberty Observation Deck, which gave them a closer, high-definition look at noteworthy sights and allowed them to zoom in to obtain more information on each landmark's history and architectural details. Ben was particularly excited to spot the stadium in which the Phillies play, as well as the rink where the Flyers take to the ice, and I couldn't get over the gorgeous sunset views of a city that had captured my entire family's hearts and imaginations. COVID NOTE: One Liberty Observation Deck is currently open, with reduced hours, limited guest capacity, employee health screenings, and social distancing measures in place. Electrostatic cleaning procedures and antimicrobial surface solutions are being utilized, and all guests age 2 and over must wear a mask at all times.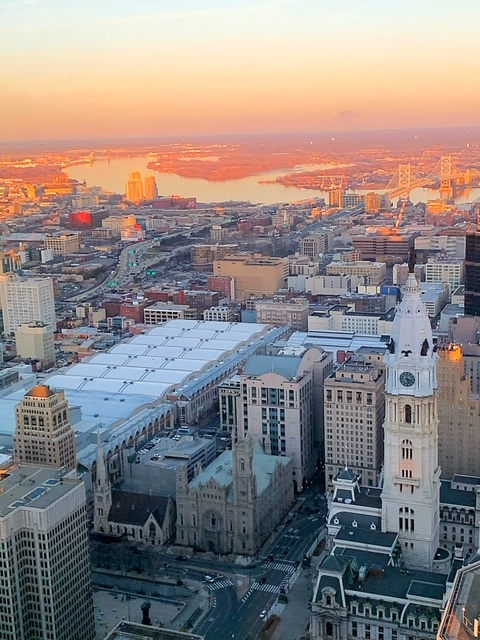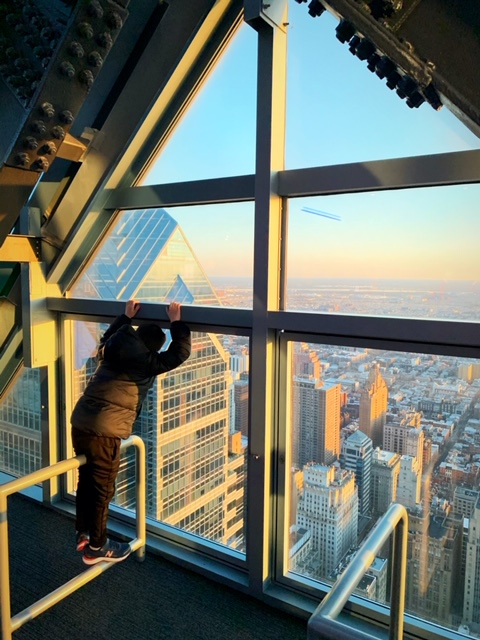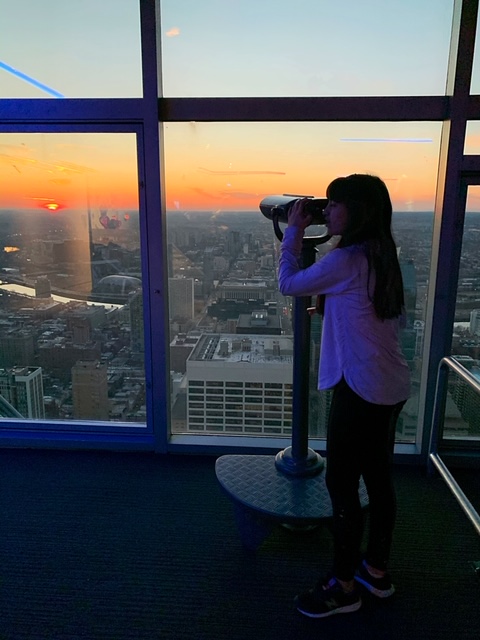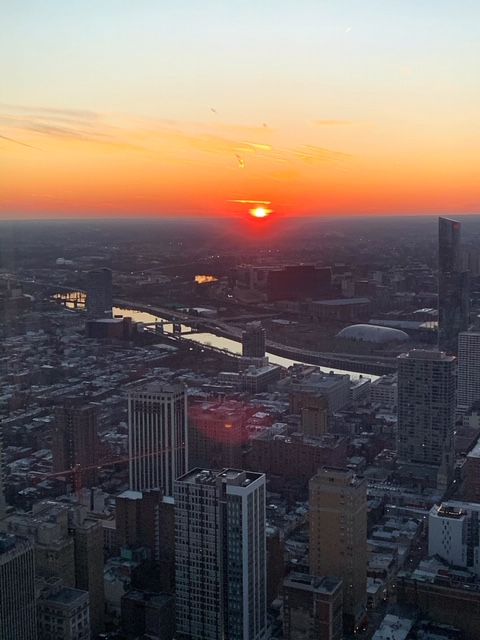 Philadelphia has long been known for its innovations in science, and particularly those pioneered by its most famous resident, Benjamin Franklin, whose long list of inventions include bifocals, the lightning rod, the Franklin stove, the catheter, and more. My kids share Franklin's passion for all things science and technology, so there was no way we were missing an opportunity to visit The Franklin Institute, a museum founded in honor of America's first scientist and dedicated to connecting visitors with science and technology in creative and inspiring ways that resonate with kids and adults of all ages. Our Go Philadelphia pass scored us admission to the museum, but it's worth noting that special exhibitions and the observatory are not included with the Go Philadelphia pass.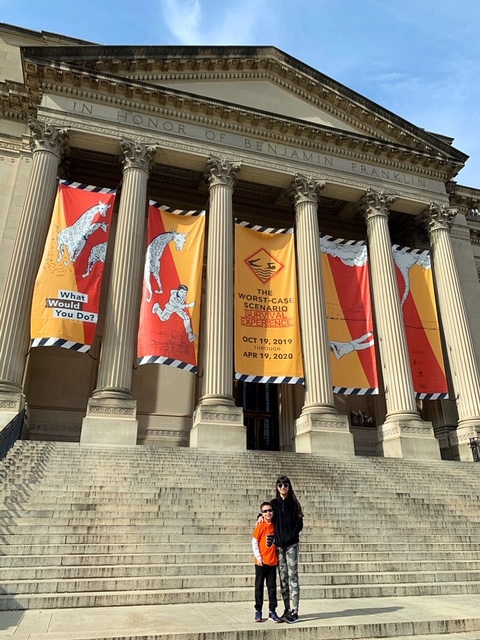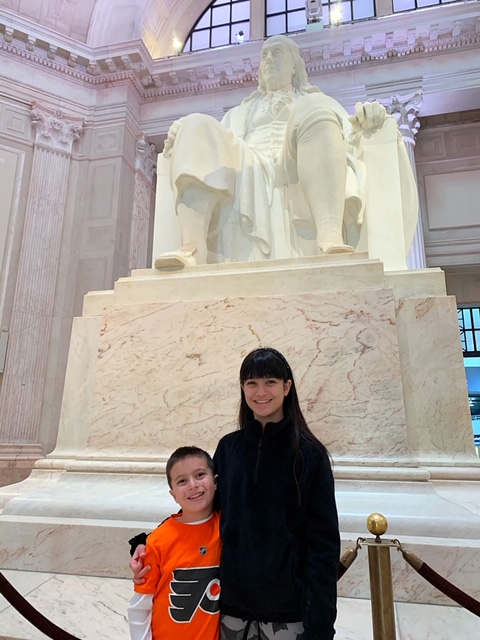 The Franklin Institute plays host to an impressive array of engaging and educational exhibits, including my kids' personal favorite - The Giant Heart. It's almost impossible to describe this quirky exhibit, but essentially it's exactly what it sounds like - an oversized replica of a human heart through which kids can climb and wander as they crawl through a giant artery, see hand-painted red blood cells lining the walls, and hear an actual human heart beating as they explore the chambers of this iconic installation. Needless to say, Sadie and Ben must have gone up and down in that heart a dozen times during our visit! As part of The Franklin Institute's new health and safety protocols, The Giant Heart has been coated in a protective clear coat that allows for safer, more efficient disinfection, and access is now monitored with limited entry capacity and frequent disinfection throughout the day.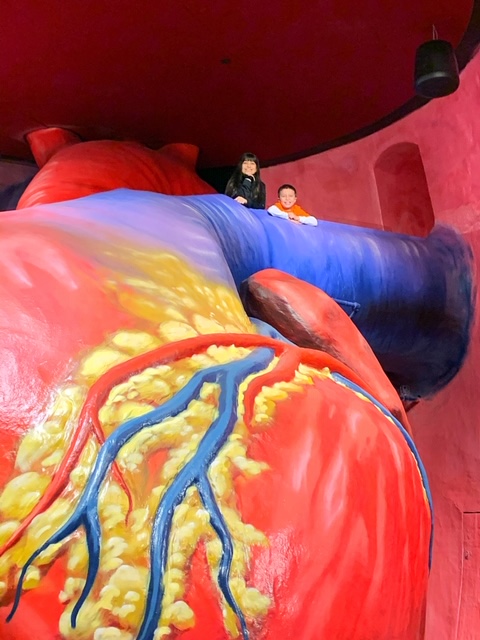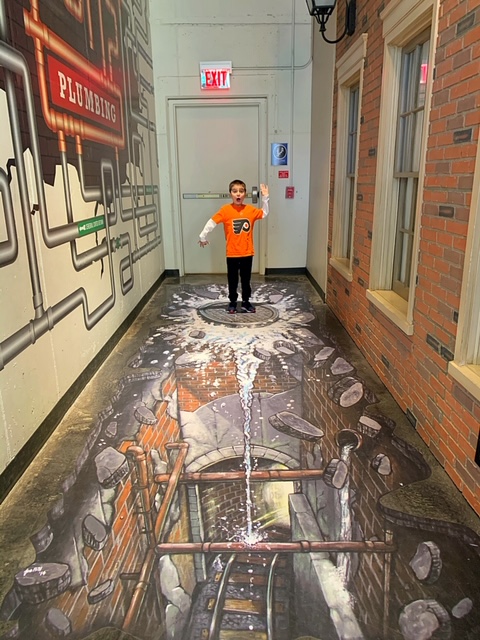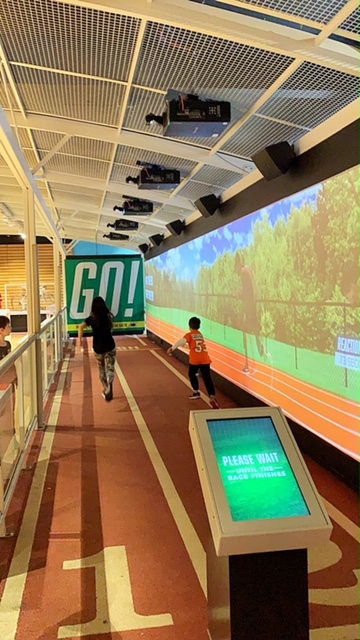 The kids also had a blast exploring how sport connects the science of the human body, laws of motion, and technical innovation in the Institute's SportsZone, where they biked on a virtual course, discovered how much protection helmets provide, tested how shaped skis provide greater control on a curved slope, virtually raced against professional athletes, analyzed and improved their baseball pitching technique, tested their jump momentum, caught some virtual waves as they balanced on a surfboard, and more. They also enjoyed exploring Sir Isaac's Loft, a "playground of experimentation" that brings Newton's laws to life via falling objects, chain reactions, and optical illusions, as well as The Train Factory, where they got to climb aboard a 350-ton Baldwin steam locomotive and learned how steam and coal powered the first locomotives and how diesel, electricity, and magnetic levitation allow modern trains to travel longer distances at greater speeds.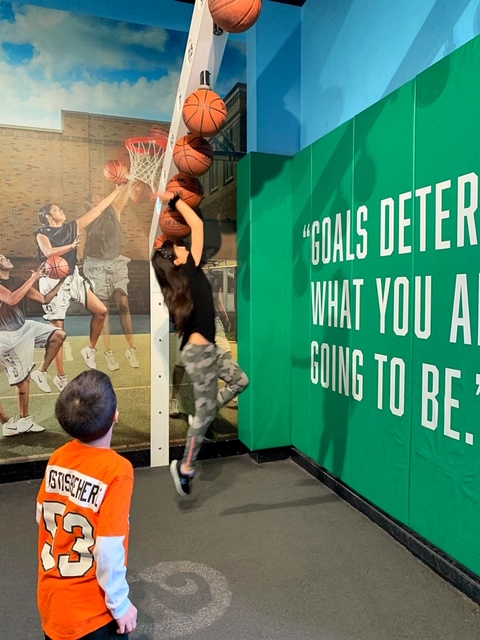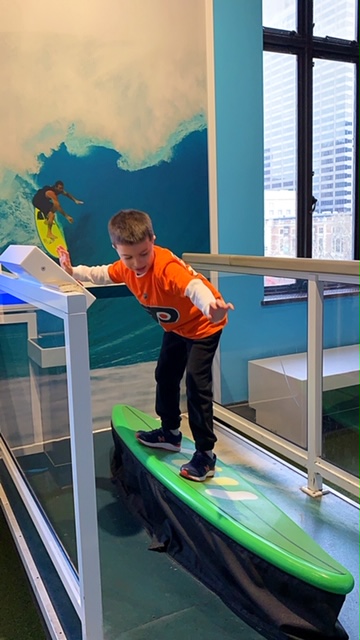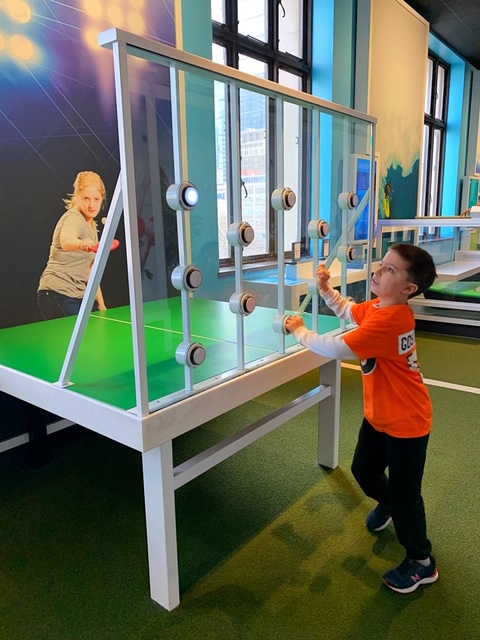 In the Changing Earth exhibition, we learned about the interconnected systems of earth science, and Sadie and Ben got to try their hand at going on camera to deliver the local weather forecast. The kids also enjoyed The Franklin Institute's largest exhibition, Your Brain, where they climbed a two-story tall neural network structure complete with dynamic lighting and sound effects, as well as the interactive Electricity exhibit dedicated to the Institute's namesake. COVID NOTE: The Franklin Institute is currently open, with reduced capacity, timed ticketing, enhanced cleaning protocols, and physical distancing measures in place. Face masks and no-touch temperature checks are required for all staff and visitors ages 3 and up. Several exhibitions are currently closed, so be sure to check the Institute's website prior to your visit.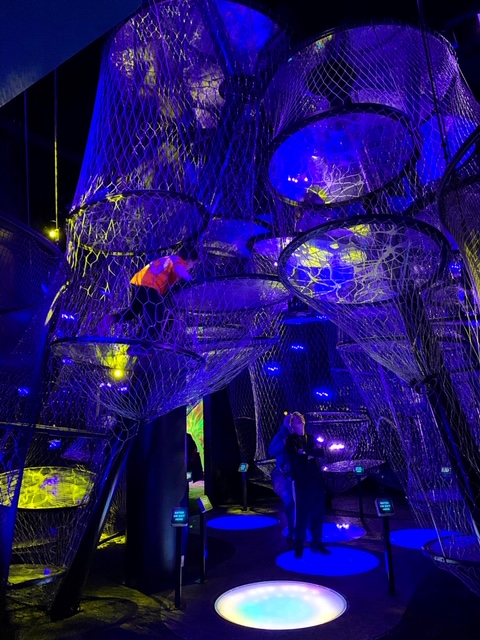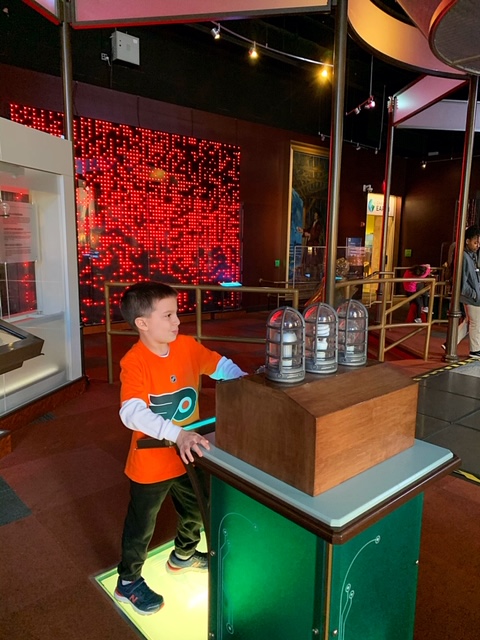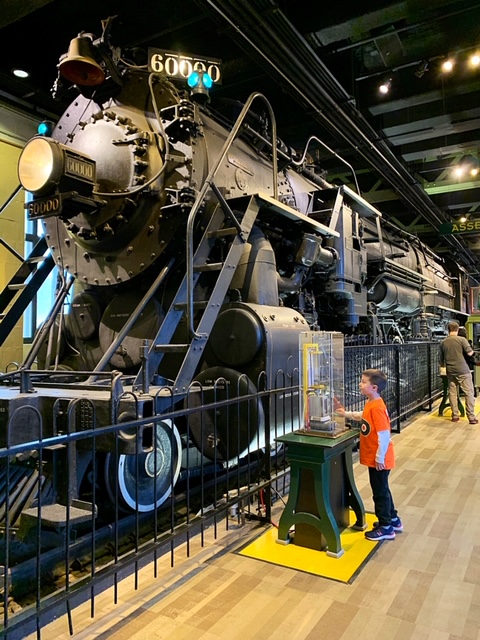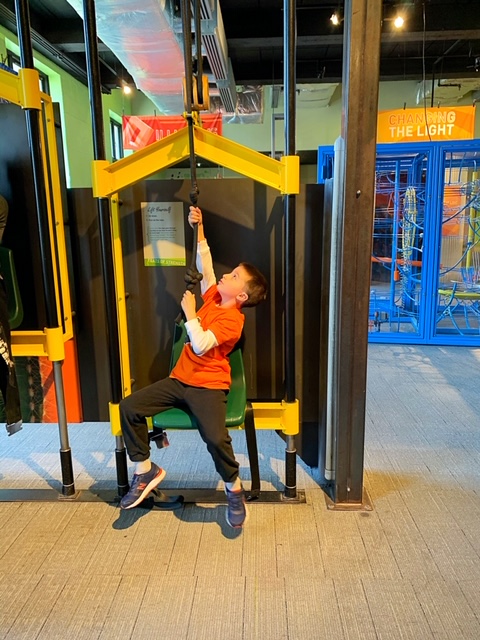 Ben Franklin's legacy looms large in Philadelphia, and we left the Franklin Institute eager to learn more about this quintessential Renaissance man. We were able to do precisely that during our visit to Franklin Court, a historic site that includes the Benjamin Franklin Museum as well as two modern steel "ghost" structures that mark the locations of where Franklin's home and his grandson's printing business once stood. Franklin's home was demolished in 1812, but viewing portals located at the site allowed us to peer into the foundations of the home, including the original cellar kitchen. Getting to view this tangible piece of history was incredibly inspiring, and it brought the period of the American Revolution to life for Sadie and Ben in an entirely new way. Having visited the site where Franklin lived, we took a quick walk over to Christ Church Burial Ground, where Franklin and his wife Deborah, as well as their two children, are buried in a family plot. In keeping with Franklin's famous mantra, "A penny saved is a penny earned," we joined in the tradition of paying our respects by tossing a penny onto Franklin's grave (this was of course prior to the current coin shortage!). COVID NOTE: The Benjamin Franklin Museum is currently closed. The courtyard itself, which contains the "ghost" structures, is outdoors, as is Christ Church Burial Ground, which is open to visitors and is also included in the Go Philadelphia pass.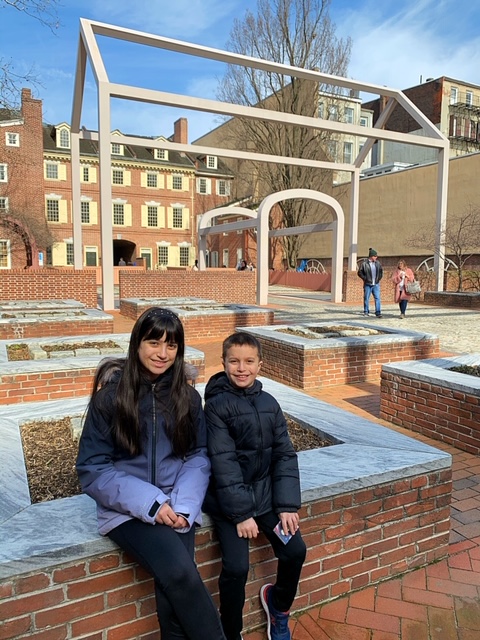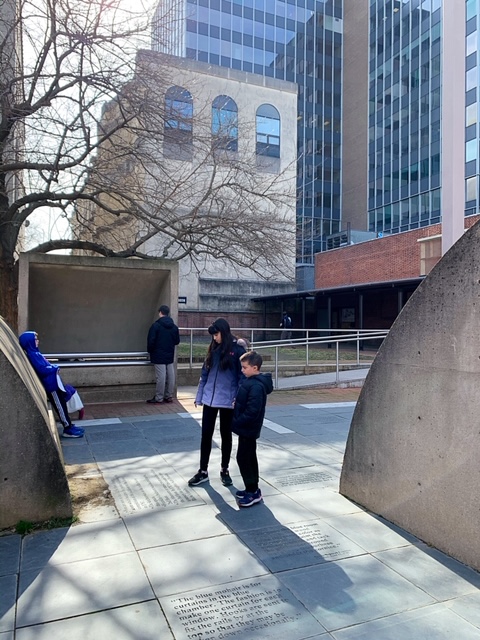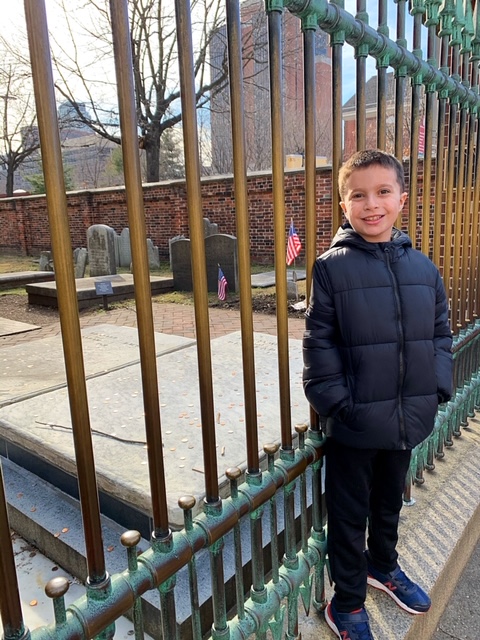 Of course, no trip to Philadelphia would be complete without a stop at the steps of the Philadelphia Museum of Art, aka the "Rocky Steps," and there was no way Sadie and Ben were going to pass up the chance to run up this iconic stairway and give the famous two-arms-raised salute at the top. Indeed, they made the run several times over, bursting with laughter and excitement each and every time. They also made sure to pose with the Rocky statue at the bottom of the stairs, which often has a painfully long line in front of it but which photographs just as well from the side without having to endure a wait. I mean, we may have been in Philly but we're New Yorkers through and through, and real New Yorkers don't wait in unnecessary lines!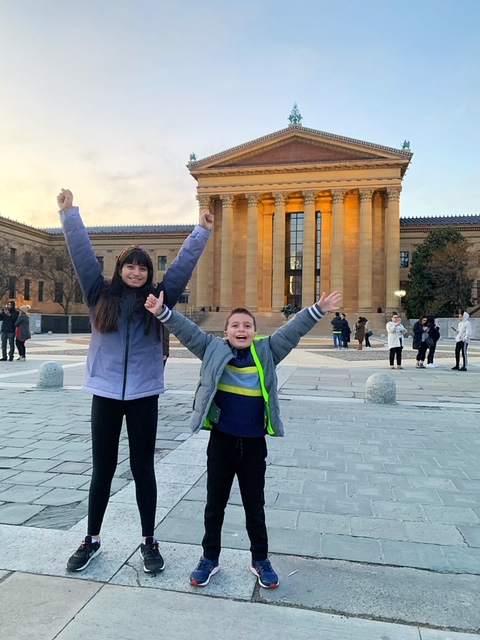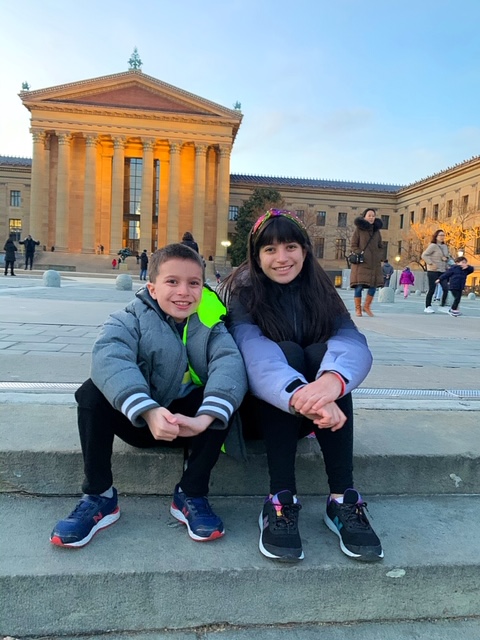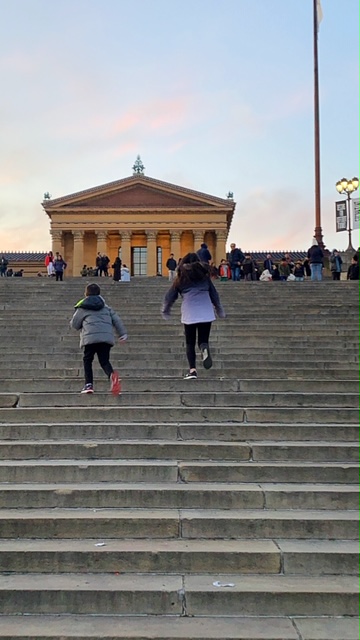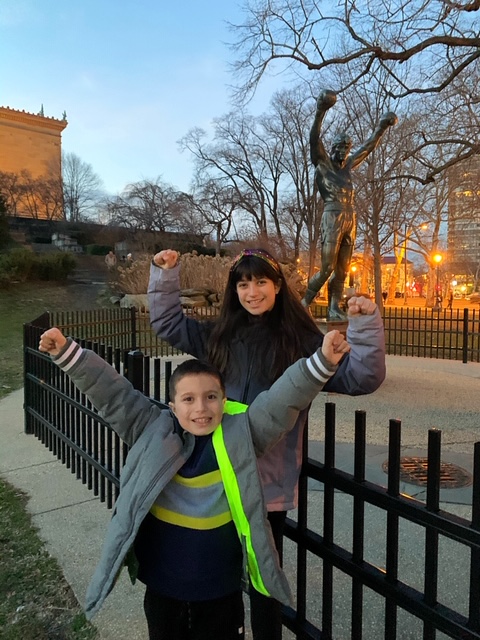 All that exploring worked up quite the appetite, so it's a good thing that Philadelphia plays host to an impressive number of family-friendly culinary gems. Some of our favorites included the aforementioned Federal Donuts and Dizengoff, as well as the Brady Bunch-style Jones, the Jetsons-style The Continental Midtown, and the bright and airy Urban Farmer Philadelphia steakhouse. We also managed to score a last-minute reservation at Zahav, which is consistently rated as one of the top restaurants in the country, but unfortunately we found the service to be abysmal and the food lackluster.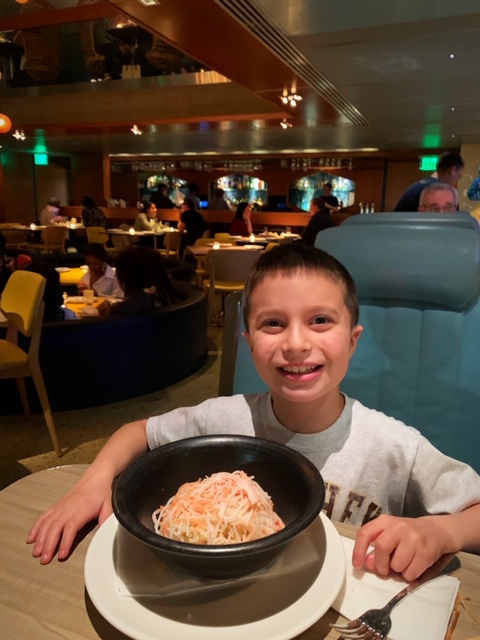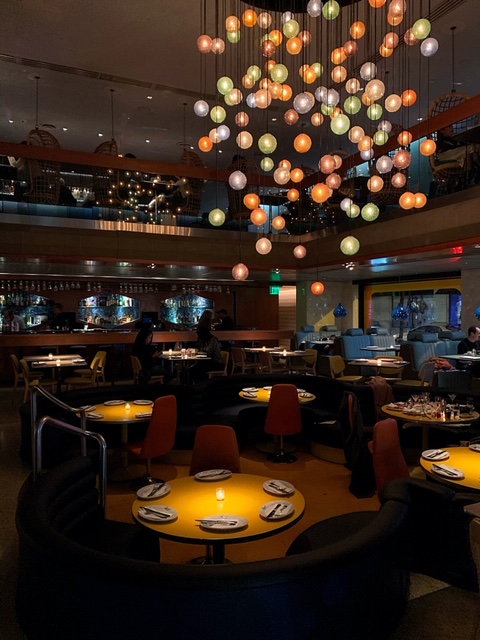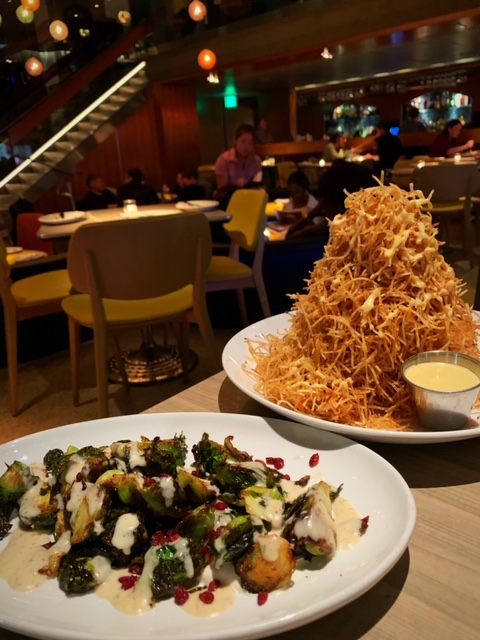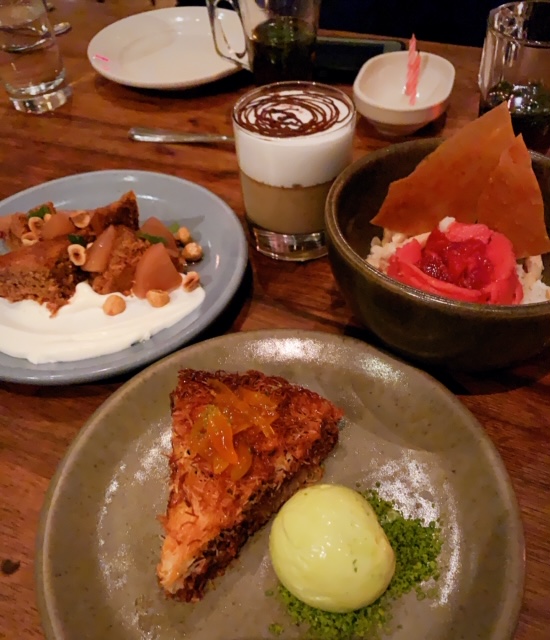 A much tastier option, which turned out to be our favorite meal of the trip, was High Street on Market, where we enjoyed warm and gracious service as well as sandwiches served on some of the most delicious fresh-baked bread we've ever had. And of course, we couldn't leave Philadelphia without stopping by Jim's South St. to indulge in authentic Philly cheesesteaks that were so good we've been dreaming of them ever since!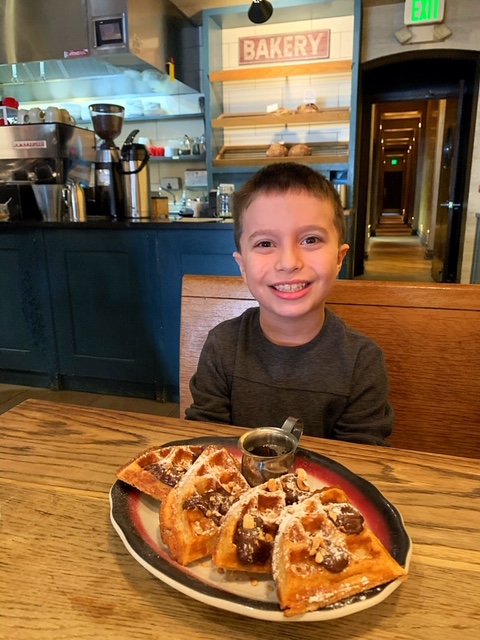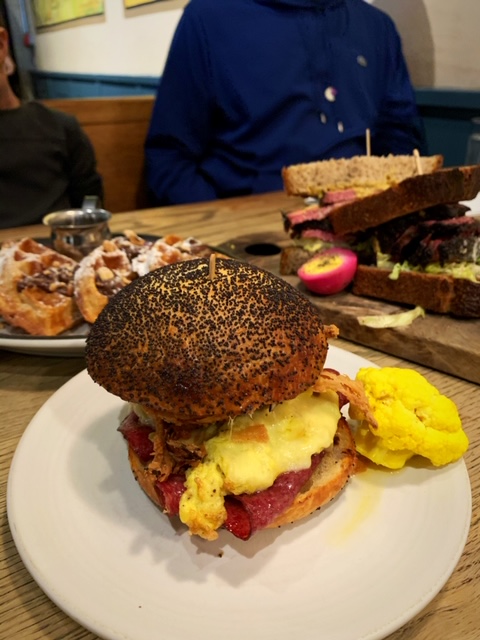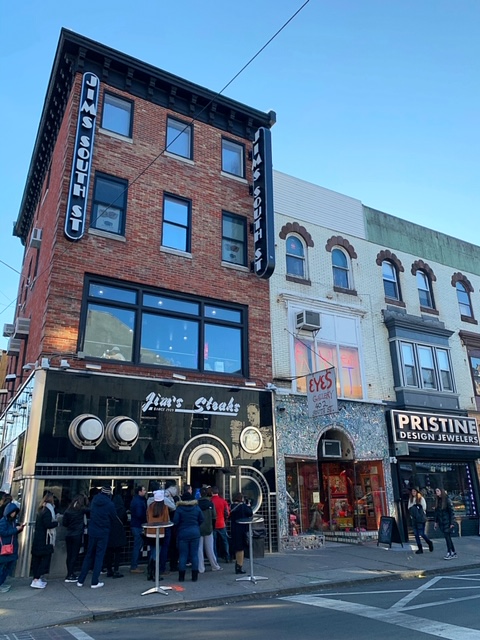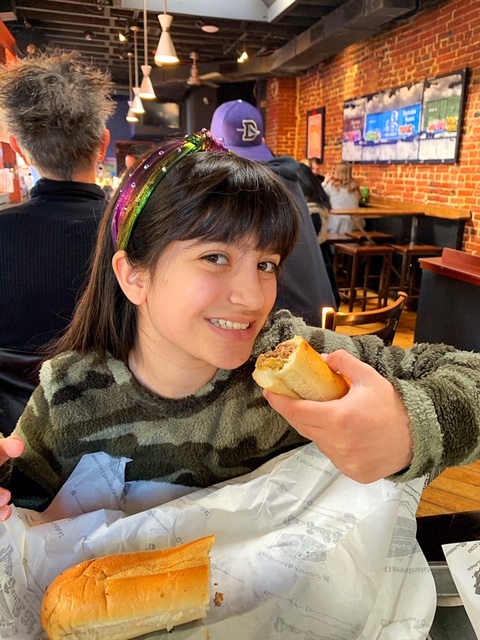 I'm so grateful that we had an opportunity to take our Go City trip to Philadelphia just prior to life as we knew it changing in an instant, and we've been holding on to the memories we made during that adventure throughout these many months at home. We remain optimistic that we'll be able to resume our travels in the not-too-distant future, and when we do head back out on the road we are excited to explore even more of the tours and attractions on offer via the Go Philadelphia pass. When you're ready to travel again, I highly recommend Philadelphia as a family-friendly, driving-distance getaway from NYC, and the Go Philadelphia pass really is the perfect way to save time and money when visiting the City of Brotherly Love. For more information, visit https://gocity.com/philadelphia/en-us.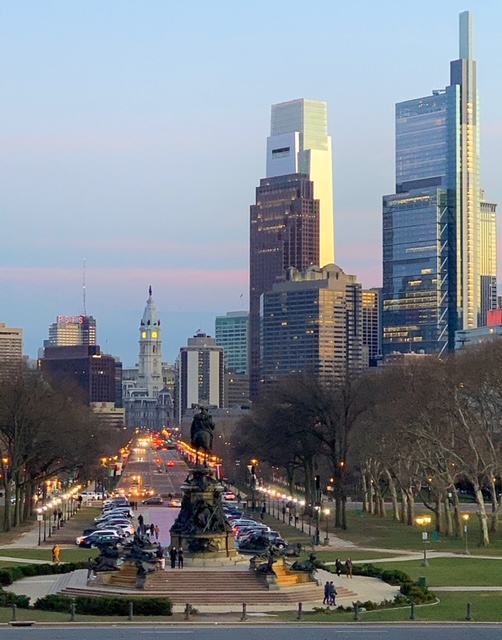 Disclosure: Thank you to Go City for hosting my family's visit to Philadelphia to facilitate this review! The opinions expressed herein are, as always, entirely my own.