Throughout nearly four long months of strict quarantine, during which my family did not once set foot outside our Manhattan apartment, we held out hope that the summer would bring some form of respite, whether via camp, outdoor sports and activities, or some semblance of normalcy in the city we call home. As the weeks and months dragged on and these options began to look more and more unlikely, we began an exhaustive search of potential rental properties in the greater tri-state area, hoping to find an escape from the city. Perhaps not surprisingly, we were not alone in this pursuit, and we quickly realized that we wouldn't be able to locate a rental home that would both fall within our budget and not look like something out of a horror movie. Around the same time, I happened to stumble upon a post in an Upper East Side parenting Facebook group recommending Alicia (Beldengreen) Gold, a South Florida real estate agent who specializes in assisting NYC families seeking to relocate to or find a rental property or second home in the South Florida area. It quickly dawned on me that Alicia could provide the perfect solution to our quarantine dilemma, and I'm happy to report that I was indeed correct in this regard, as, thanks to Alicia's diligent research and tireless efforts on our behalf, we are now happily ensconced and quarantining in our very own South Florida rental home.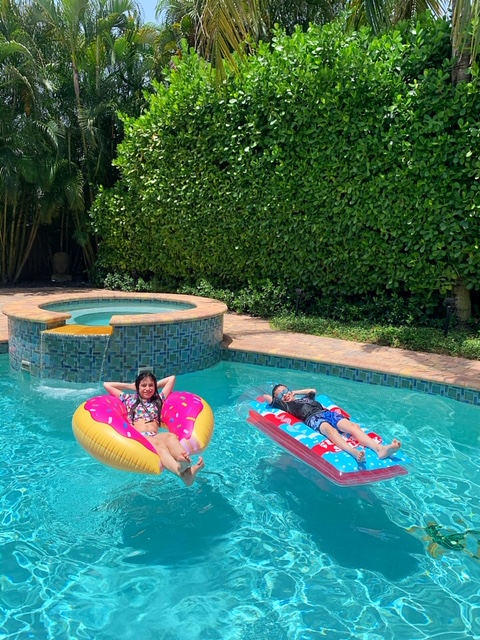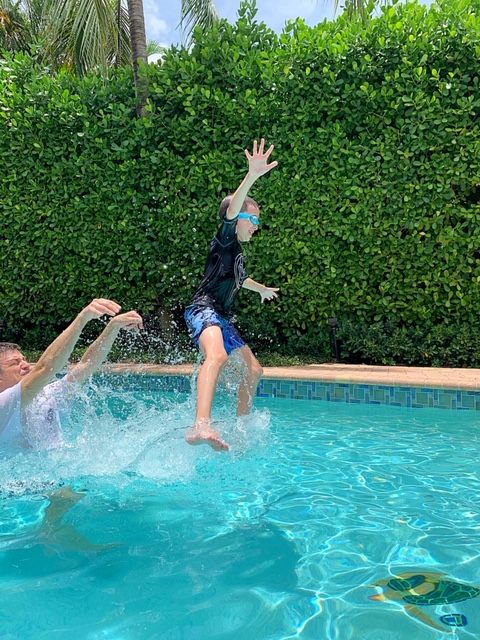 Since arriving here a few weeks ago, we've been reveling in all the extra space, as well as the comfort and convenience of having our very own outdoor space complete with a swimming pool (aka the greatest thing ever, according to my kids). We're also fortunate to have everything we need (including groceries) delivered right to our door, so we are able to maintain our strict quarantine without ever having to set foot beyond our little slice of paradise. Though if we were in "normal" times, I'd definitely want to venture out, as the South Florida area offers a wealth of fabulous dining, shopping, and entertainment options, in addition to endless stretches of gorgeous beaches and waterways. Indeed, it's easy to see why so many New York families have been making the move to this area, and how invaluable it is to have someone like Alicia to guide you through the process.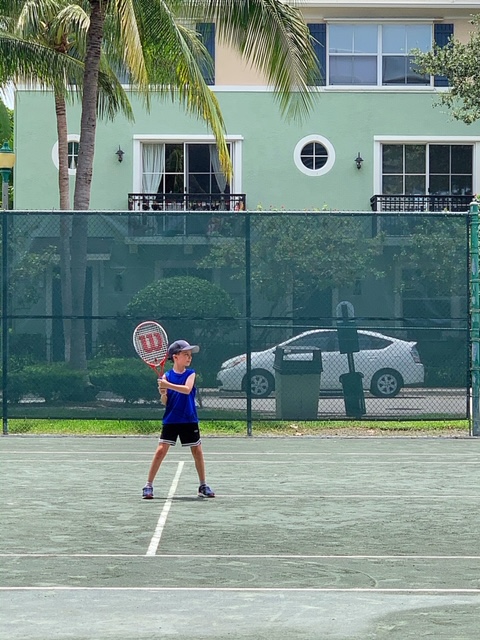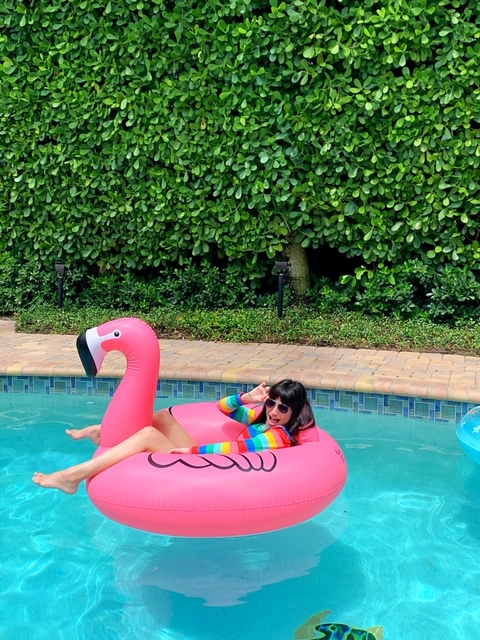 Born and raised in Scarsdale, Alicia started work in Manhattan at Goldman Sachs. After seven years in NYC, she returned to her hometown with her husband to raise a family of their own and pivoted to a career in real estate. She quickly established herself as a top agent in Westchester, receiving recognition from The Real Deal as a Top Producer in Westchester County. In 2018, Alicia and her family relocated to Delray Beach, where she became one of the founding agents at Compass' Boca Raton office and has developed a successful niche business assisting families from the tri-state area who wish to relocate to or find rentals in Boca Raton, Delray Beach, Highland Beach, Parkland, and Palm Gardens. In just two short years here, Alicia has closed 34 transactions, and she's collectively sold over $85 million of real estate during her career both in New York and in South Florida.
As a former New Yorker raising her own kids in South Florida, Alicia is uniquely suited to advising the ever-increasing number of families from the tri-state area who have become clued in to the fact that you can get a great deal more for your money and enjoy a fabulous lifestyle in Florida. Alicia and her family can't get enough of the year-round sunshine, and she loves seeing her kids get to engage in a wealth of active pursuits regardless of the season, including swimming, bike riding, tennis lessons, and more. Her family also enjoys the energy and vibe of Downtown Delray Beach, with its plethora of restaurants and boutiques, and they're particularly enamored of the fact that Boca Raton's public schools are A-rated and among the best in the state, while the area's private schools are among the best in the nation.
Alicia offers a full-service approach to her clients and is able to provide insight on all aspects of the South Florida lifestyle: the various communities, kids activities and classes, camps, restaurants, service providers, and more. She regularly does FaceTime showings so that clients who are out of state can view the particular homes and communities that are of interest to them, and for clients who are building new construction homes, Alicia is able to provide guidance on lot selection, floor plans, and even finishes. And of course, Alicia's status as a native New Yorker means she truly "gets" those of us who are coming from the tri-state area, including our type-A personalities!
When it comes to finding the perfect community for her clients, Alicia has seen a trend of New York area families being drawn to the new construction communities such as Lotus, Dakota, Boca Bridges, Seven Bridges, The Bridges, and other new/newer lifestyle communities that offer country club style living without the added expense of initiation or dues. Boca Bridges, where homes range from $800,000 to $4 million with no initiation fees or dues and HOA fees in the $800s per month, has been particularly popular with New Yorkers, and Alicia has sold 7 homes in this gated community in just the past 60 days. The community is in the process of building a 27,000 square-foot clubhouse complete with a fitness center (including fitness classes), indoor and outdoor basketball courts, a beach-entry resort pool, a lap pool, and a kids splash park with waterslides, 7 tennis courts (including a pro shop and tennis pros who offer lessons and leagues for adults and kids), a full-service restaurant with indoor and outdoor dining, and a lifestyle director on staff who schedules all sorts of activities for the community.
If there's one thing the past four months have taught me it's that my family's health, happiness and well-being are inextricably tied to our surroundings, and the thoughtful choice we made to switch up our environs for the summer has done a world of good for all of us. Being in Florida has allowed my kids to have a real summer, complete with carefree days by the pool and plenty of time running and playing outside. The kids have even been able to squeeze in some tennis, which has proven to be a very social distancing-friendly activity! I don't know that we're quite ready to make a permanent move to Florida, but if we were, it's so nice to know that we'd have someone like Alicia to guide us through the process. Her unwavering commitment to making sure her clients find the perfect home and community, as well as her ability to see things from a New Yorker's perspective, render Alicia an invaluable asset to the South Florida real estate market and to the clients she serves. If you're contemplating a move to or the purchase or rental of a second home in the South Florida area, I highly recommend getting in touch with Alicia!
For more information, contact Alicia at (914) 844-2760 or alicia.gold@compass.com.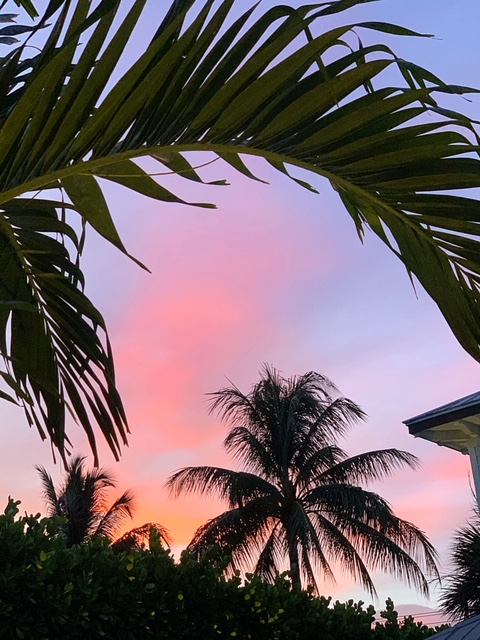 Disclosure: This is a sponsored post for which I received compensation. The opinions expressed herein are, as always, entirely my own.