Among the thousands of changes the current pandemic has wrought on my daily life, the astronomical increase in the amount of time I spend on my smartphone and and computer has been one of the most troubling from both a time management and physical perspective. Between Zoom meetings, virtual events for both my kids' schools, answering countless emails, and keeping up with work and social media obligations, the number of hours I spend staring at a screen each day is mind-boggling, to say the least. As a result, I've noticed that, on any given day, I'm prone to pretty severe digital headaches - aka head, neck, and eye pain caused from too much screen time. Couple this with the stress of back-to-school season and, well, let's just say I've been in desperate need of relief! I was therefore thrilled to learn about VANQUISH DIGITAL HEADACHE Brand Pain Reliever, which offers screen-fatigued parents fast relief from digital pain.
Developed by a brand that's been fighting tough headaches with proven efficacy for over 50 years, VANQUISH DIGITAL HEADACHE Brand Pain Reliever combines a unique formulation of acetaminophen, aspirin, and just the right amount of caffeine to address the headache, neck, eye, and shoulder pain that can result from heavy screen time. Acetaminophen blocks pain signals for fast relief, while aspirin works to reduce the underlying cause of the pain and a small dose of caffeine boosts the effects of both for quick, lasting pain-killing action. As an added bonus, VANQUISH DIGITAL HEADACHE Brand Pain Relief also happens to be effective on backaches, muscle aches, menstrual cramps, arthritis and more, making it well-suited to exhausted parents everywhere. I'm also particularly fond of the fact that the small dose of caffeine contained in VANQUISH DIGITAL HEADACHE Brand Pain Reliever is just the right amount to lend effective relief and won't leave me feeling jittery, as a good night's sleep has become an even more precious commodity over the past six months!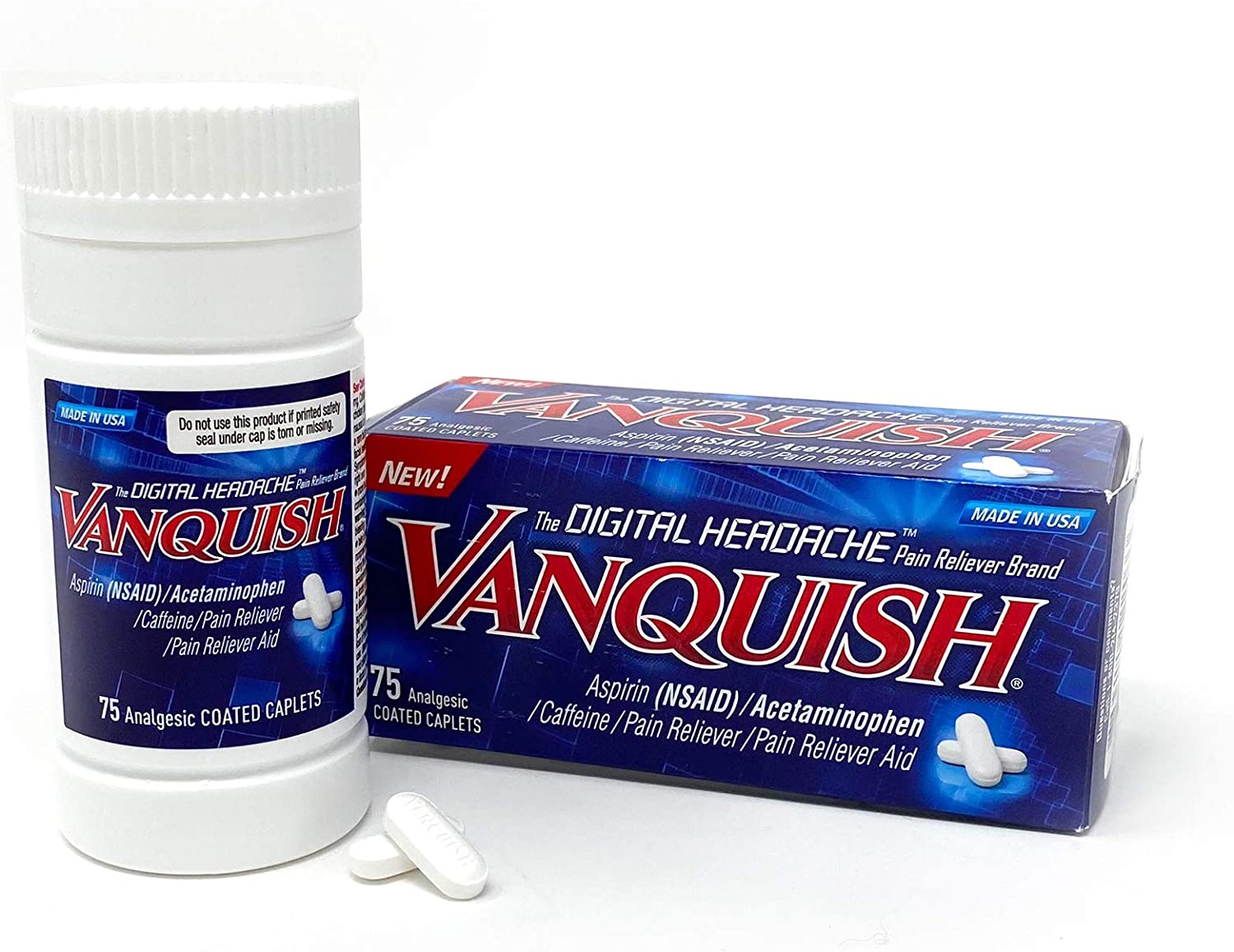 There's no denying that life as we know it has changed for the foreseeable future, and the dramatic increase in screen time that's accompanied this global pandemic doesn't seem to be going away anytime soon. As much as I'd love to be able to indulge in a digital detox, the reality is that, for many of us, our livelihoods and ability to connect with friends, relatives and colleagues have become indelibly tied to technology, and that doesn't seem likely to change until things get back to a semblance of normal. And if you think you're not prone to digital fatigue, think again, as it's incredibly common and increasingly on the rise in light of current circumstances. In fact, VANQUISH offers this 8-question quiz to ascertain your risk for digital headache pain, which is far more common than you might previously have realized. Fortunately, when digital headaches do strike, it's comforting to know that, instead of trying to power through the pain, quick and effective relief can be found in VANQUISH DIGITAL HEADACHE Brand Pain Reliever.
VANQUISH DIGITAL HEADACHE Brand Pain Reliever is now available exclusively on Amazon or VanquishHeadacheRelief.com. You can also follow VANQUISH on social and join the conversation online using hashtag #VanquishHeadacheRelief.
Disclosure: This is a sponsored post for which I received compensation. The opinions expressed herein are, as always, entirely my own.