One of the saving graces for my family during these unusual times has been taking the occasional day trip out of the city to nearby destinations that offer a wealth of family fun in an outdoor, socially distanced setting. Case in point? Our recent visit to Sands Point Preserve, a 216-acre park located less than an hour from Manhattan in Nassau County. Situated on the grounds of the original Guggenheim Estate, this sprawling Long Island enclave whisked us back in time to the grandeur and elegance of the Gold Coast period of the early 20th century, when wealthy New Yorkers built some truly jaw-dropping mansions to serve as their summer retreats along the Long Island Sound. Indeed, the literary geek in me was thrilled to learn that Sands Point served as the inspiration for the East Egg in F. Scott Fitzgerald's The Great Gatsby, and I couldn't wait to explore the gorgeous mansions and gardens that comprise this historic estate.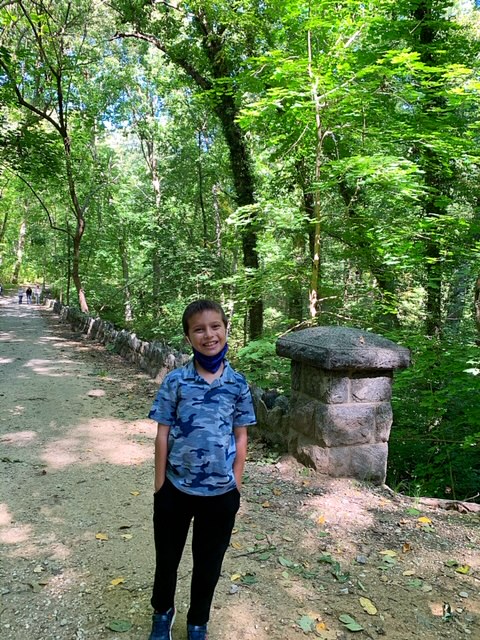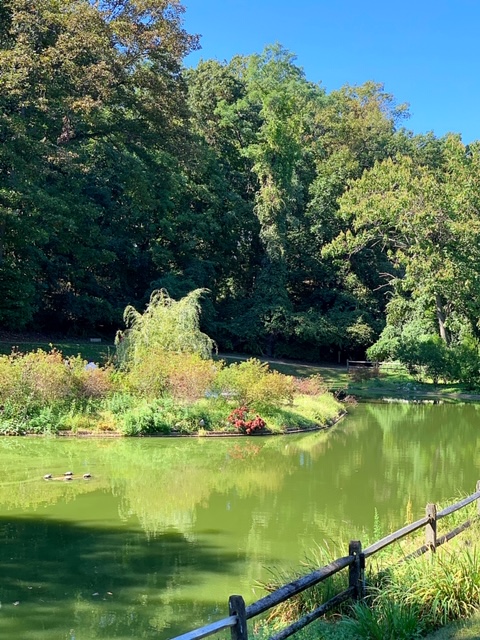 Financier Howard Gould, son of railroad robber baron Jay Gould, purchased the land that now comprises Sands Point Preserve in the early 1900s, and he subsequently erected two massive structures on the property. The 100-square-foot medieval-style Castle Gould is modeled after Ireland's Kilkenny Castle, while the nearby 50,000-square-foot Hempstead House is a Tudor-style home that includes a 60-foot-tall entry foyer. In 1917, Gould sold the estate to mining tycoon Daniel Guggenheim, who in turn gifted 90 acres of the estate to his son, Harry F. Guggenheim. Harry built yet another mansion on the property, this time in the style of a French-Norman manor house, naming it Falaise, which means "cliff" in French. Upon Daniel's death, his widow Florence Guggenheim built a smaller (by mansion standards) mansion on the property called Mille Fleurs, which contained a garden of a "thousand flowers."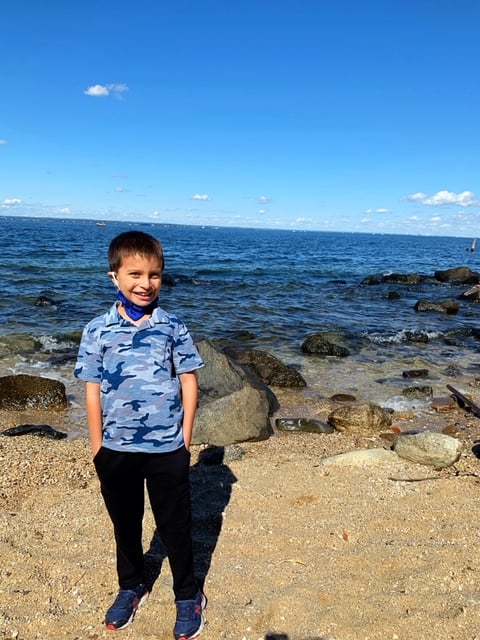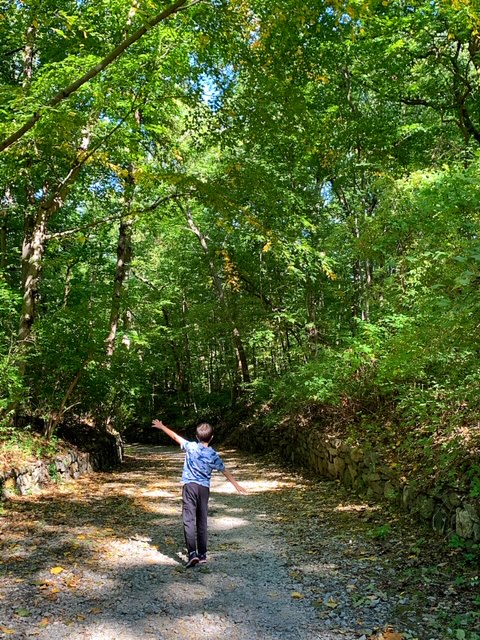 In non-COVID times, visitors can tour the various mansions located on the property, but these elegant former residences are temporarily closed to the public. Fear not, however, as there is still much to explore at Sands Point Preserve, including six marked hiking trails that weave through more than 200 acres of natural and landscaped areas, a mind-boggling array of impeccably maintained gardens, a freshwater pond, an apiary, a mile-long beach and cliffs, and even a playground, dog run, and dino trail (which proved to be a big hit with my 8-year-old son).
We were fortunate to visit Sands Point Preserve on an unusally warm October weekend, and I'll confess that I found myself catching my breath as we crossed over a century-old bridge and drove down the historic "allée" of trees that line the route to the Preserve's entry gate. It truly felt like we were entering another world, albeit one that was a mere 25 miles east of our Upper East Side apartment. Entry to the Sands Point Preserve is a supremely reasonable $15 per car, and once you've paid the admission you have free range to explore the estate for the entire day. The Sands Point Preserve Conservancy, which runs the estate, has implemented a number of COVID-aware safety measures, including a requirement that visitors maintain six feet of distance from others not in their party and that everyone wear face coverings when they aren't able to maintain at least six feet of distance.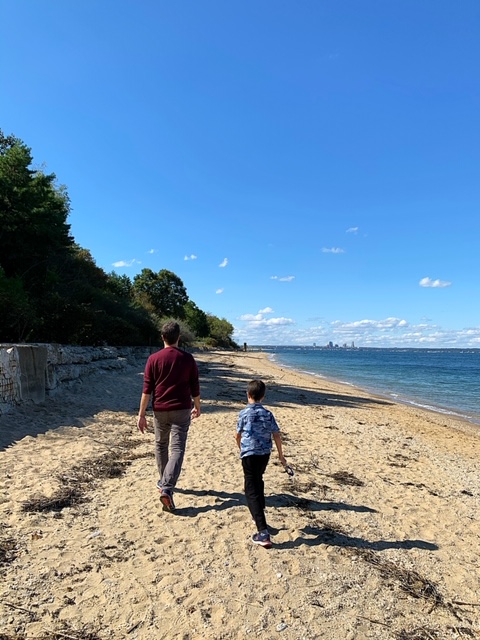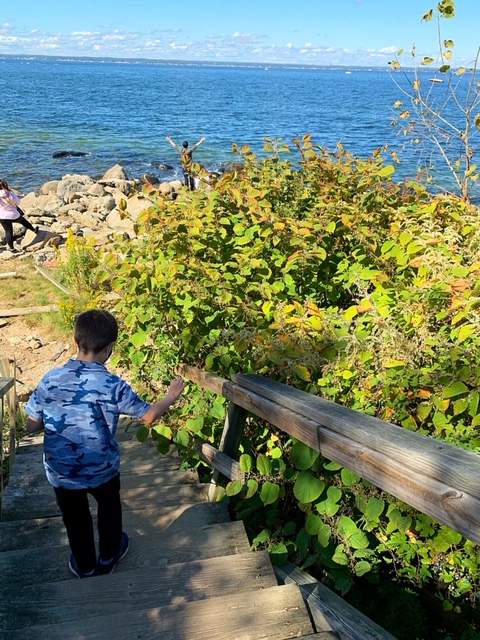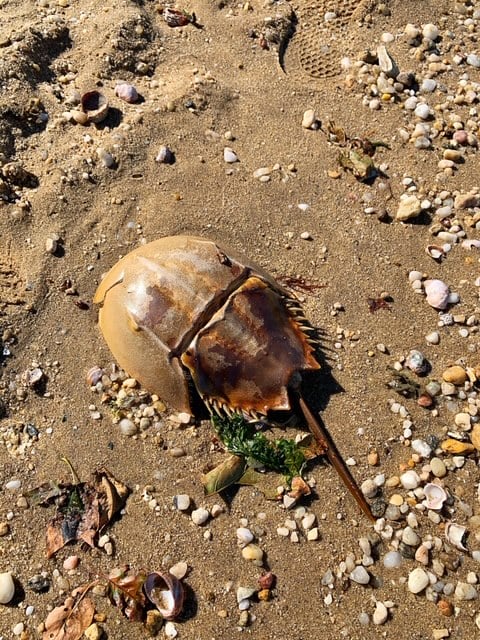 As we drove from the entry gate to the parking area, I marveled at the serene and elegant surroundings in which we were quickly enveloped. It really is hard to fathom that this entire piece of land and all its structures once belonged to a single family. I bet they wouldn't have had any trouble handling a COVID quarantine! Parking at Sands Point is abundant, and it was easy to keep our distance from others as we explored the property, starting with a walk through the rotunda of Castle Gould's massive clock tower. My 8-year-old son Ben couldn't believe his luck at getting to see an actual castle without having to travel to Ireland to do so, and he was beyond thrilled with the opportunity to be outside in the fresh air with so much room in which to run and explore.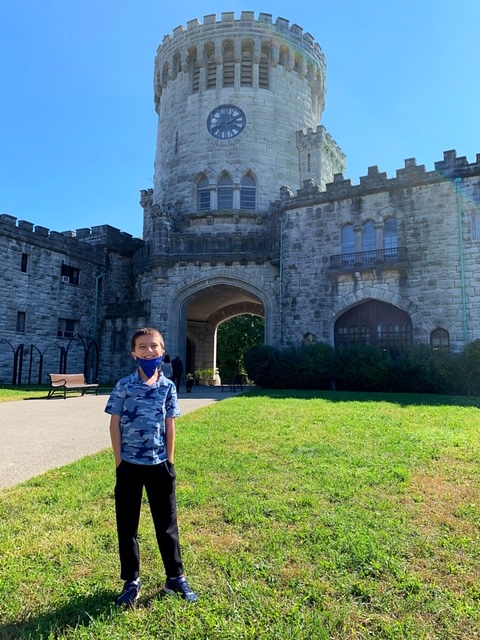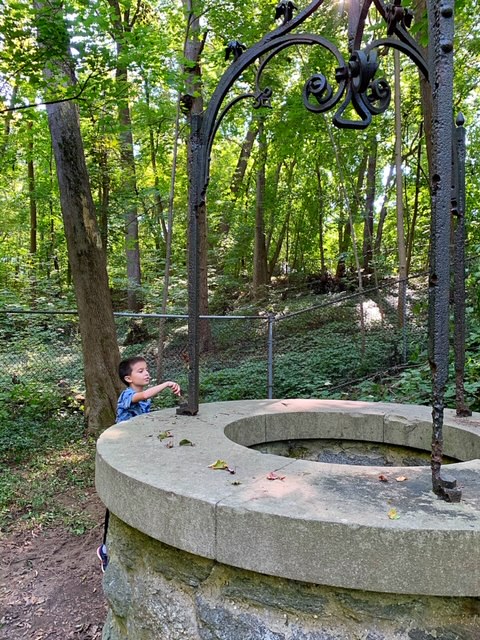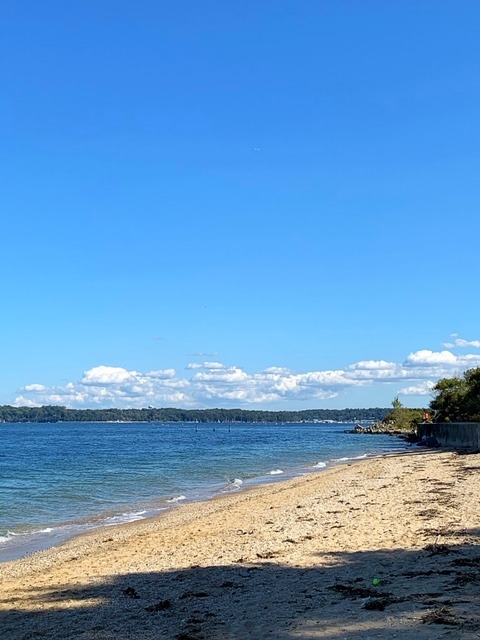 Speaking of exploring, I'd advise printing out a property map before heading to Sands Point rather than attempting to access the map on your phone while you're there, as the reception in the wooded areas can be a bit spotty. There are a number of themed, self-guided walking tours available online, including a History Tour, a Native Wildlife & Diverse Environments Tour, and a Bird Watching Tour, all of which sounded terrific but none of which were going to work to hold the attention of my husband and son, so we opted to just wander the property and see where it took us. This turned out to be a great decision, as were able to meander through the various walking trails at our own pace and could stop to explore whatever caught Ben's eye without having to worry about sticking to a designated route.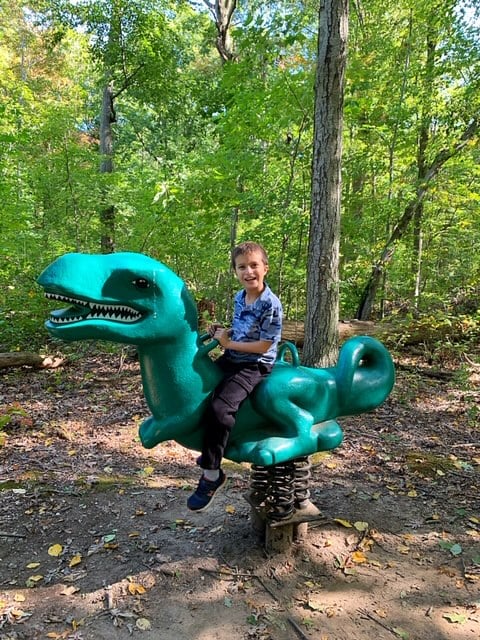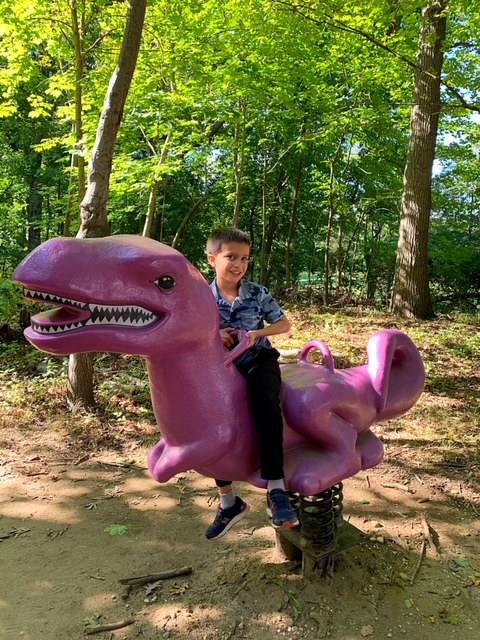 There are six marked walking trails within the Sands Point Preserve, and you really can't go wrong with any of them, as they all allow you to get up close and personal with the stunning natural surroundings. Ben had a blast scrambling over rocks, crossing stone bridges that felt straight out of a fairy tale, climbing on the whimsical dinos located along the Dino Trail, and finding dozens of Horshoe crab remains on the sandy beach along the Long Island Sound, while my husband and I couldn't believe the fact that, although we felt worlds away from the hustle and bustle of the concrete jungle, we could actually see the Manhattan skyline from the beach on which we were standing.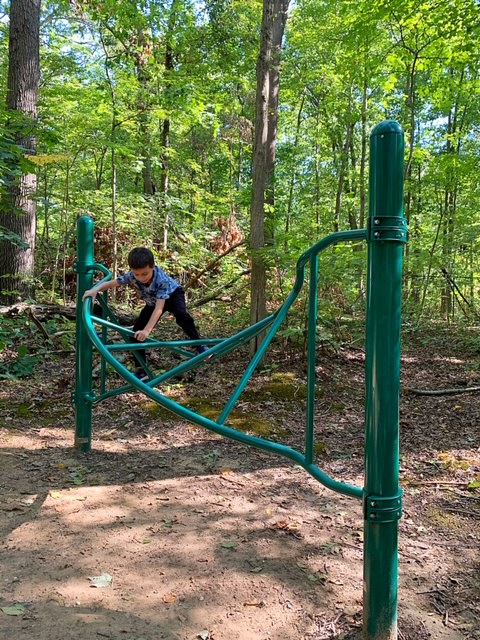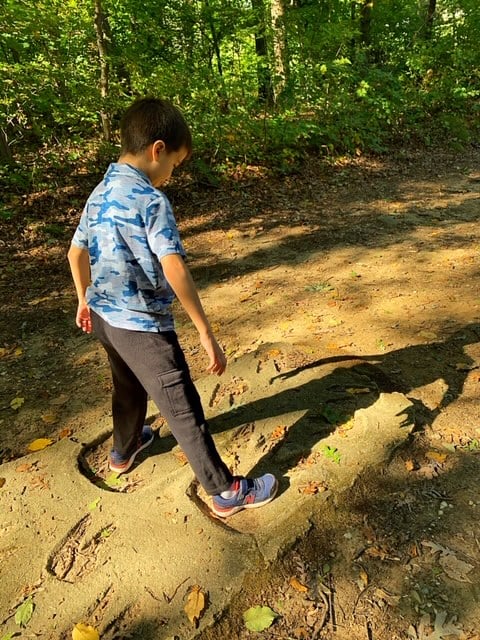 The entire Sands Point Preserve property is quite the sight to behold, including the towering Hempstead House. It's easy to see how F. Scott Fitzgerald was inspired by this magnificent structure, and I could absolutely imagine Jay Gatsby attempting to woo Daisy Buchanan among the 1,500 red rose bushes of the mansion's Rose Garden. In addition to its stunning Tudor-style architecture and impeccably maintained rose garden, Hempstead House boasts sweeping views of the Long Island Sound and a seemingly endless stretch of green in the form of the Great Lawn.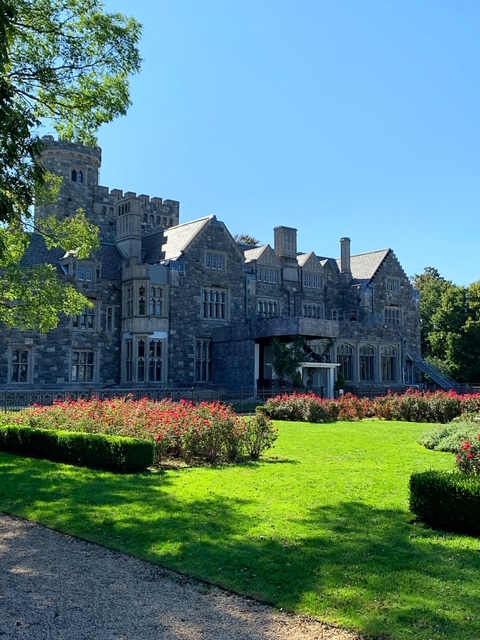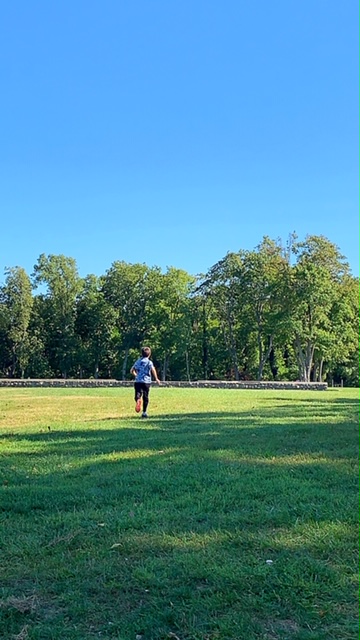 I'd recommend setting aside at least three hours to explore Sands Point, and bringing along plenty of snacks and water for the day. You'll also want to wear comfortable walking shoes. You don't need any advance reservations to visit Sands Point, which makes it an ideal impromptu day trip for non-planners such as myself. This weekend's forecast calls for sunny skies and unseasonably warm temperatures, making it the perfect time to head out to Sands Point Preserve for the day. For more information, visit the Sands Point Preserve Conservancy website. Happy day tripping!