In a typical December, my family would be busy getting ready for our annual winter break trip to California, where we'd spend the holidays celebrating with friends and family while also basking in the warm California sunshine. My dad and stepmom go all out for the holidays, decorating the entire house with Christmas cheer, and, for my kids, the highlight of our visit has always been opening presents beneath the tree on Christmas morning. There's always been something so magical about watching my kids delight in the same joy and wonder that I did as a kid when they head downstairs and see the tree and presents in all their splendor. I think I get almost as much enjoyment out of the process as they do! When we realized we wouldn't be able to travel this winter due to the ongoing global pandemic, we were all understandably disappointed, not only because we miss our California family terribly, but also because we'd never celebrated Christmas at home in New York and weren't quite sure what that would mean. The Rockettes aren't performing this year, the holiday window unveilings have gone virtual, and we can't gather together with friends due to safety concerns, so we were at a bit of a loss as to how to bring the magic of the holidays to our winter break staycation. So when an email from NYC TREES landed in my inbox, it seemed tantamount to an early Christmas miracle, as I knew I'd found the perfect solution to my holiday quandry.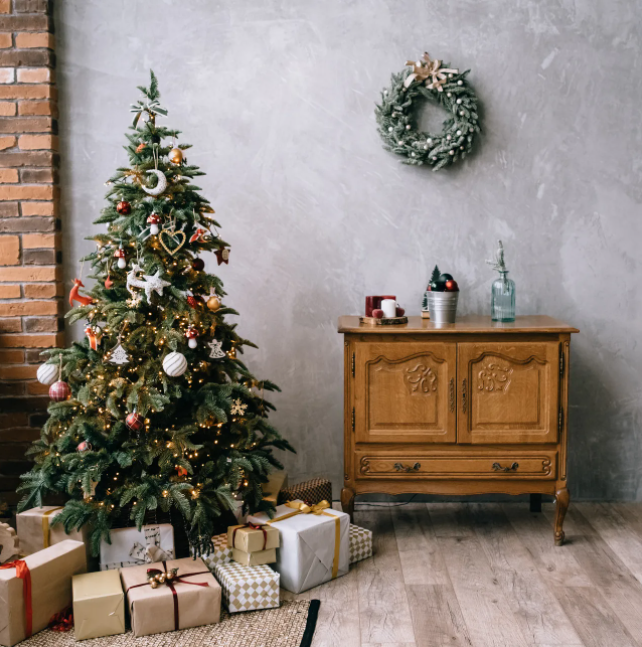 Founded by local dad and NYC public school teacher Harold DeLucia, NYC TREES is a family-owned business that will deliver a picture-perfect farm-raised Fraser Fir directly to your NYC abode and even provide decorating services so that you can sit back, relax, and enjoy the magic of the holidays right at home without having to venture outside your quarantine bubble to find a tree, ornaments or lights. Simply visit NYC TREES' website and select your preferred tree size (they carry trees from 4 feet to 15 feet tall), as well as any decorating packages you'd like to include, and then pick the day and time you'd like your tree delivered, and NYC TREES will do the rest. Complimentary local delivery is included for all trees, and all decorating packages include installation services, so there's no upcharge to have everything delivered and set up right in your home. As my culinary idol Ina Garten would say, how easy is that?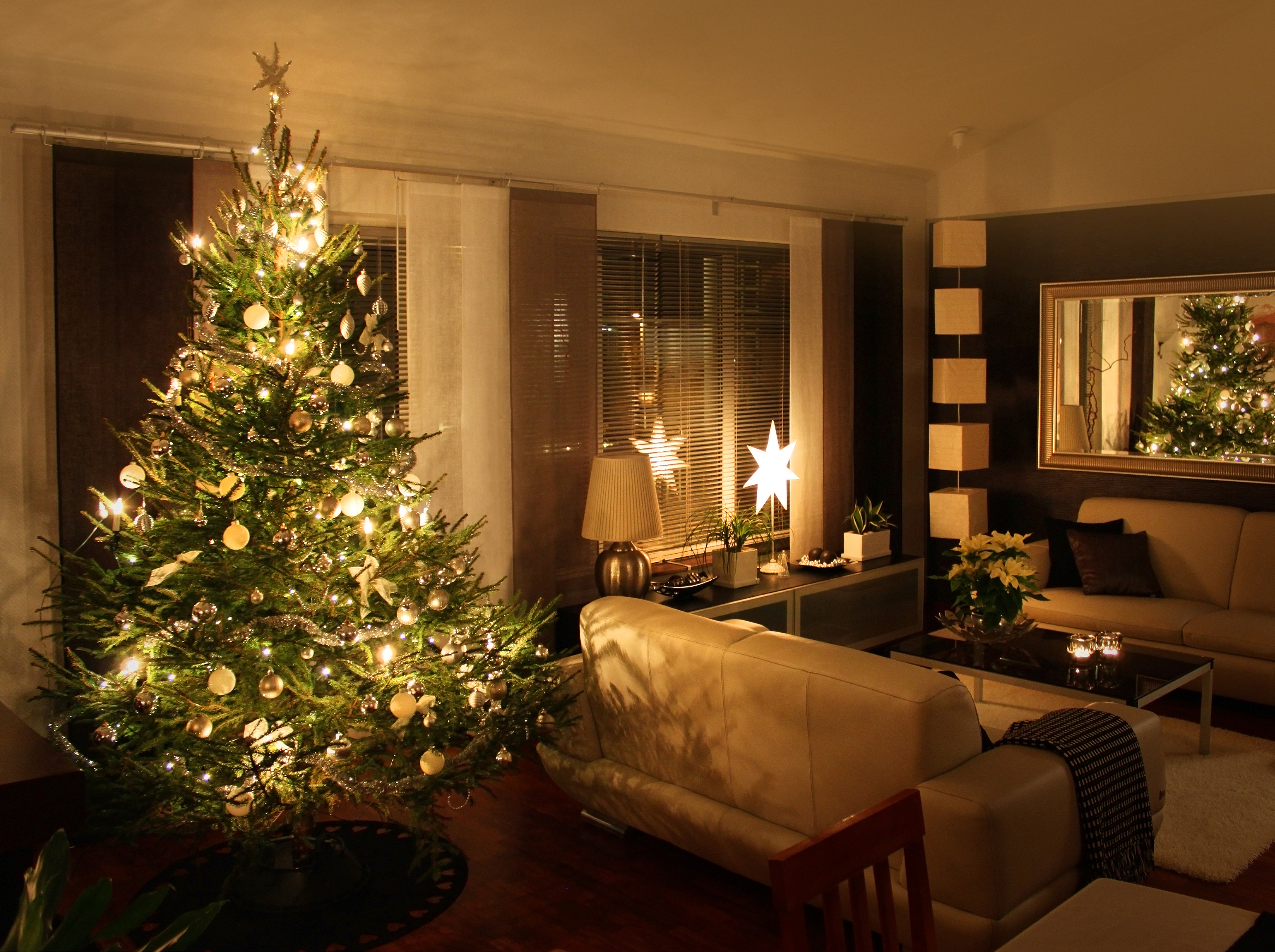 And when it comes to holiday trees, you'd be hard-pressed to find any more beautiful than those offered by NYC TREES. All of their trees are premium Fraser Firs, which are consistently characterized as the ultimate holiday tree given their soft, dark green needles with a silvery underside and their strong, upward angled brances that render them perfect for hanging ornaments. Each NYC TREES Fraser Fir comes complete with a tree stand and decorative tree skirt, and the NYC TREES delivery team makes a fresh cut to your tree before bringing it inside your home.
We don't own any Christmas ornaments or decorations, and I'm loathe to buy any given that we will (hopefully) be celebrating the holidays in California next year, so I was thrilled to learn that NYC TREES not only delivers holiday trees but also provides a decorating service whereby, after your tree is delivered, a professional decorator will come to your home and adorn your tree with ornaments, lights, and a tree topper (or just lights if you prefer to use your own ornaments). The company offers three stunning decorating packages from which to choose, including Traditional Christmas, Gold & Glamorous, and Silver & Blue, and this year, NYC TREES is including 25% more lights and ornaments in every tree decorating package, as well as a tree topper. Talk about a much-needed dose of good news in a year that's been filled with anything but!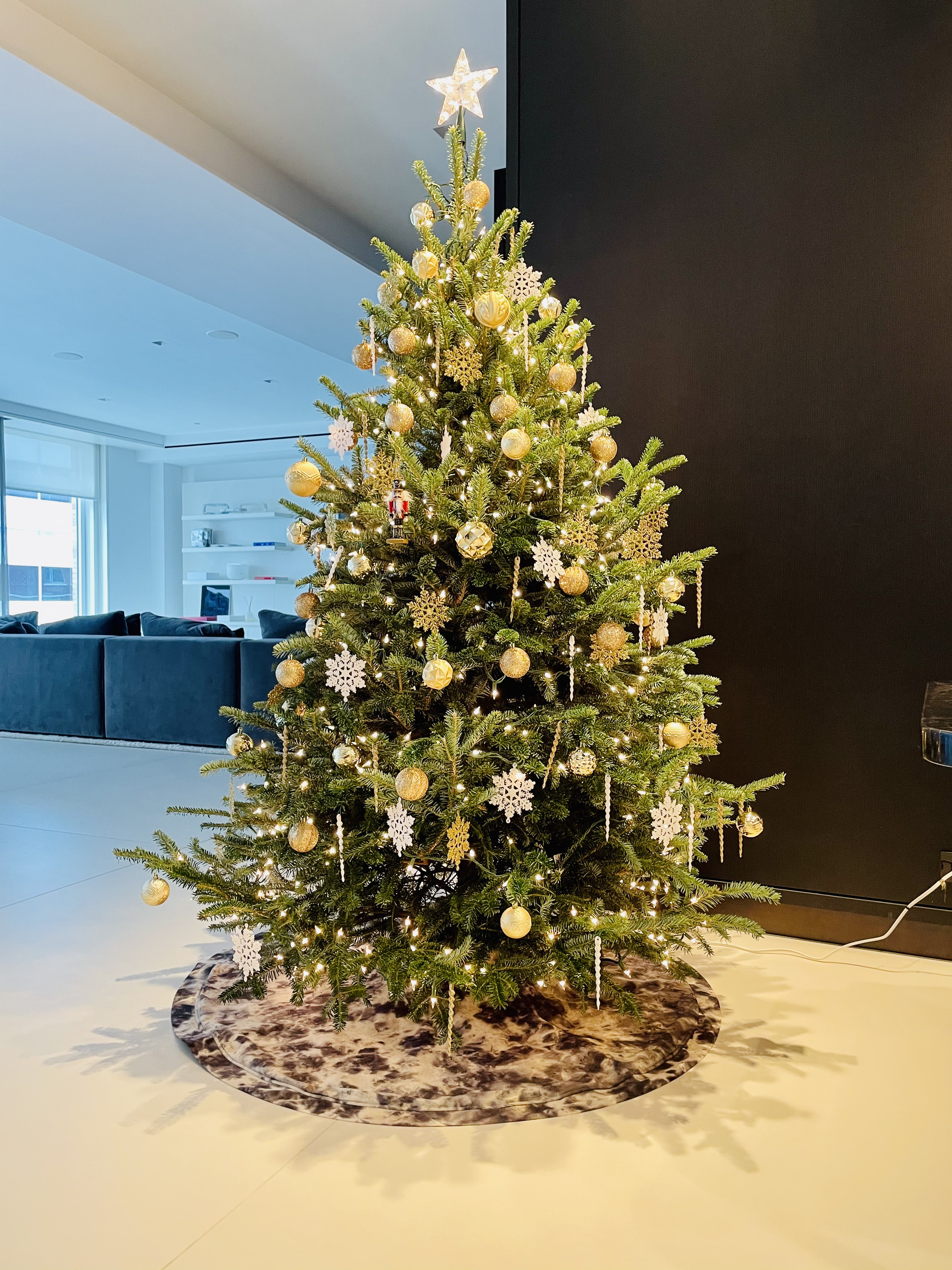 We're having our NYC TREES Fraser Fir delivered this coming Monday and decorated the following day (the trees need a day for their branches to settle before they're ready to hold decorations), and because this will be the first time an outside service provider will enter our home since the pandemic began, I was pleased to learn that the NYC TREES team has instituted COVID-aware measures to keep their personnel and our family safe throughout the process. Any NYC TREES team member entering a home to deliver or decorate a tree must wear a mask, gloves, and booties, and customers are also requested to wear masks so as to protect the delivery and decorating team. If you're more comfortable having your tree dropped off, NYC TREES offers a contactless delivery option whereby delivery personnel will bring the tree to your door but will not enter your home. The tree will still receive a fresh cut, will be set in the stand, and will then be left outside your door along with a tree skirt (note that you must be present to receive the delivery, as the team needs confirmation that there is someone on the other side of the door to bring the tree inside, but you don't have to open the door while the team is present). If you'd prefer to personally select your tree in person, you can visit NYC TREES' outdoor store location in Hell's Kitchen, so no matter which way you prefer to procure your tree, NYC TREES has you covered.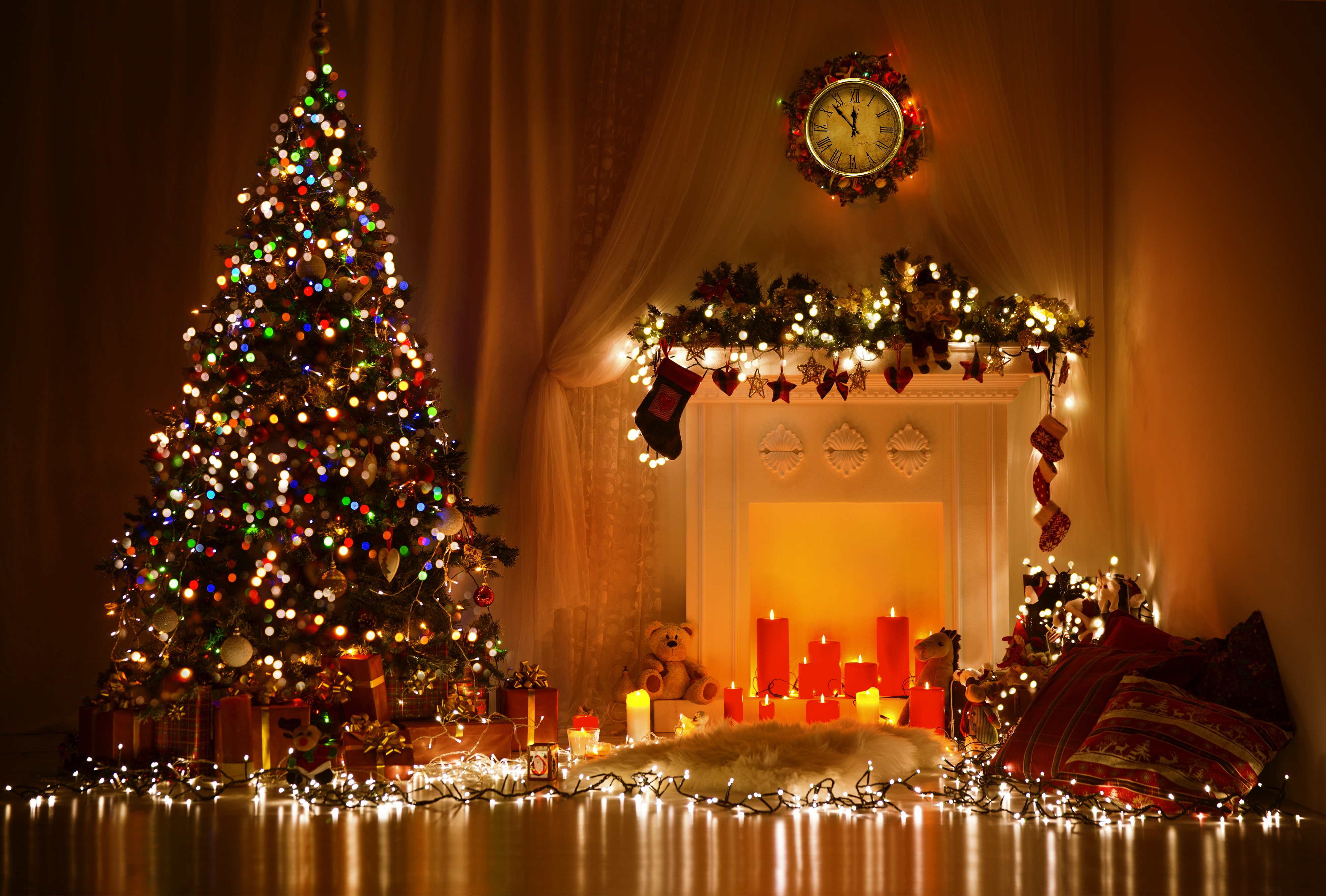 Thanks to NYC TREES, my family will be able to embrace the spirit of the holiday season right here at home, allowing me to treat my kids to a magical Christmas morning regardless of where we're celebrating the holidays. My kids have been absolute troopers through everything that's been thrown their way this year, so I'm particularly thrilled to be able to carry on a holiday tradition that's come to mean as much to them as it does to me. I know that every time I look at our beautifully decorated holiday tree, I'll be reminded of the warmth, magic and sense of wonder that fills the holiday season and that, even though we won't be able to physically celebrate with our California family, they'll be with us in spirit as we all stay safe until the next time we can gather together.
For more information or to order your own NYC TREES farm-raised Fraser Fir and decorating services, visit https://nyctrees.com/. DEAL ALERT! Save 10% on your NYC TREES order when you enter the code MacaroniKid10 at checkout.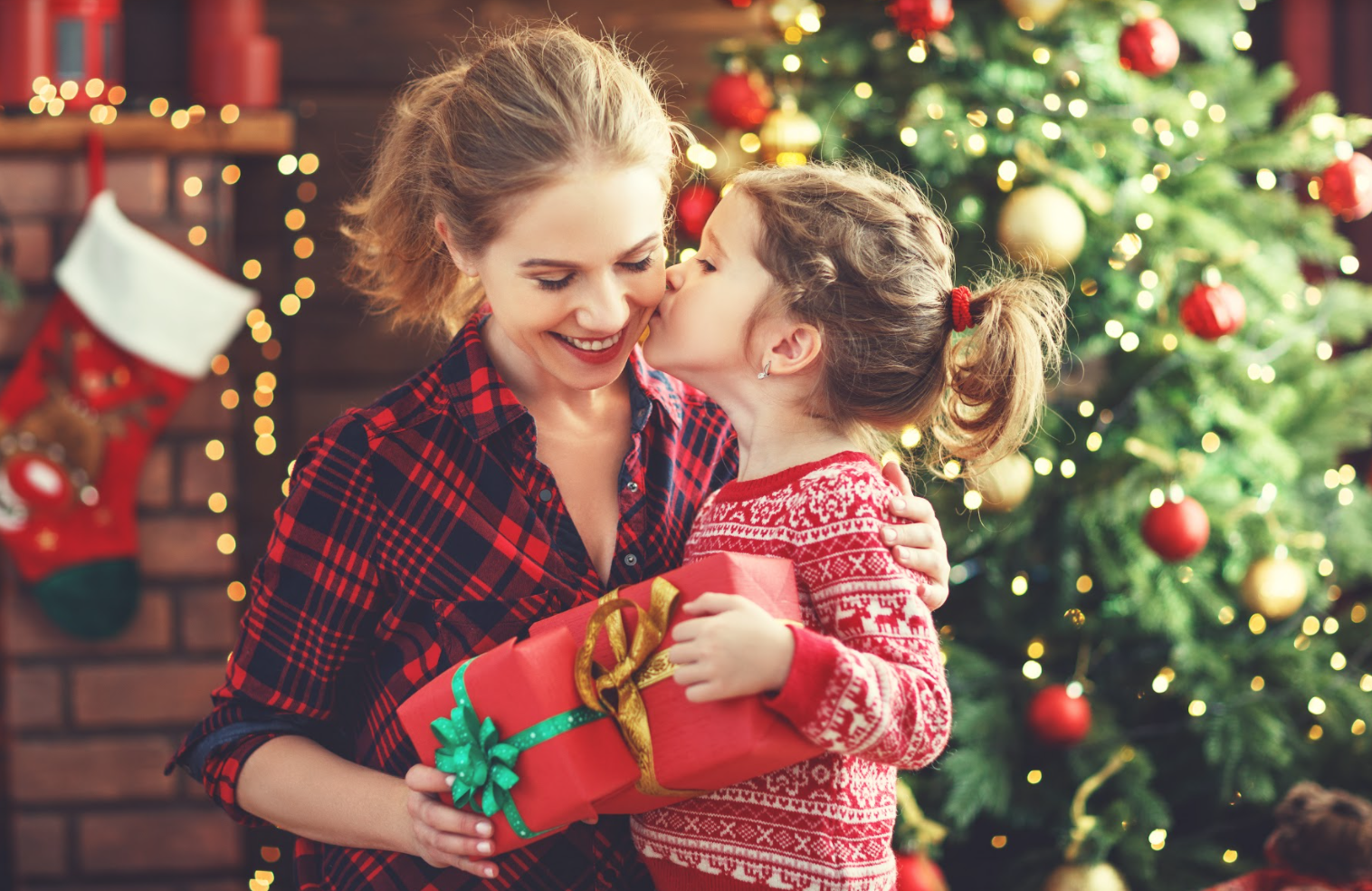 Disclosure: Thank you to NYC TREES for providing a tree and decorating package to facilitate this review. The opinions expressed herein are, as always, entirely my own.