The Jewish holiday of Passover is one of the most widely celebrated holidays in the Jewish calendar. Passover, or Pesach in Hebrew, is an eight-day spring holiday that celebrates the Israelites' exodus from Egypt. If you're celebrating Passover for the first time, need a refresher on a few traditions, or just want to know more about the history of the holiday, this April, visit PJ Library's expertly-curated introduction to Passover here.
PJ Library offers lots of fun ideas to enliven your Passover, from helping children make a Lego seder plate or a decorative matzoh cover or simply reading about some of the traditions tied to the holiday in best-loved books like The Carp in the Bathtub or Company's Coming.
PJ Library's new Have I Got a Story for You podcast offers a simple, sweet, child-friendly version of the Passover story, adapted from Exodus, and a fun tale called The Passover Pirate. Find out what happens when a bearded scallywag leads the hunt for the afikomen.
These PJ Library features provide other resources and ideas:
For centuries, families have used a guidebook called the Haggadah, to tell the story of Passover and pass down the traditions and lessons of the story to their children, relatives, and friends. The Hebrew word haggadah literally means "telling." And, for the past several years, PJ Library has gifted subscribers with a beautifully illustrated and limited-edition set of PJ Library Family Haggadahs.
This year, for the first time, In Every Generation: A PJ Library Family Haggadah is available for purchase on Amazon. The colorful 80-page Haggadah, priced at $7.99, will make any seder more family friendly. Covering all the highlights of a traditional seder while creating new ways to engage children and adults alike, this Haggadah is sure to be a favorite for many years to come. If you are looking for a more budget friendly option, the PJ Library family Haggadah is also available as a free downloadable pdf.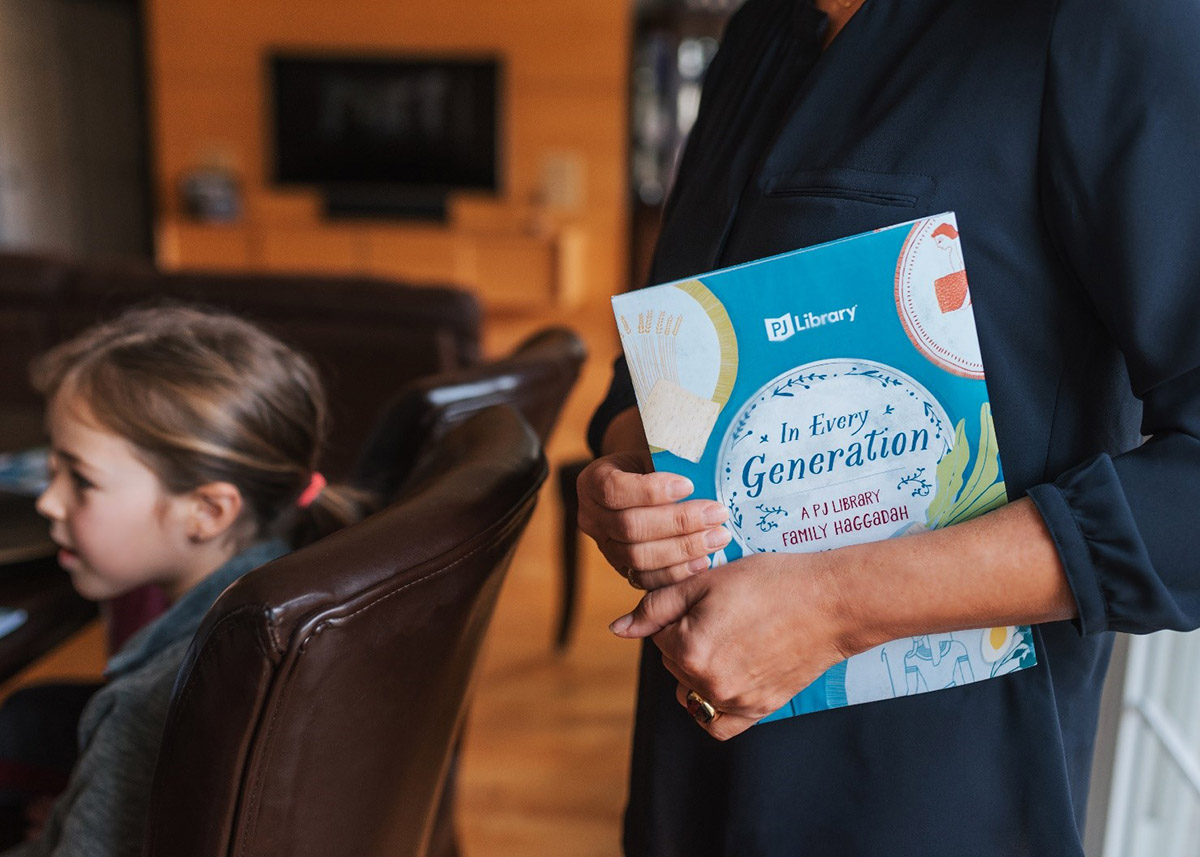 A program of the Harold Grinspoon Foundation, PJ Library sends more than 210,000 expertly curated books to families raising Jewish children – every month, at no cost to subscribers. Sign up for PJ Library to receive free monthly children's books and activities that introduce Jewish holidays, values, and traditions and help your family strengthen its connection to Jewish life.
In addition, at this staying-at-home time, PJ Library offers a plethora of sounds and activity ideas on their Resources for Quarantined Families page. On weekdays, PJ Library posts a "Read Aloud" session featuring a picture book. Watch for these at 11 am and 1 pm ET on Facebook and Instagram.