It's with great excitement that I introduce you to an amazing children's book author and former elementary school teacher who has found the silver linings in this pandemic by connecting virtually with her readers to discuss books, writing, friendship and more: Eileen Moskowitz-Palma.
Eileen's debut Middle Grade novel, Camp Clique, the first book in The Popularity Pact series, was published in April 2020 at the height of the COVID pandemic. As a result, all of her in-person events with schools, libraries and bookstores were cancelled. Rather than being discouraged, she created a solution by forming a free virtual writing camp and book club program to serve the kids affected by school closures. The response was overwhelmingly positive and the camps in high demand. She connected with kids from all across the country and caught the attention of institutions like the Providence Children's Museum, Sarah Lawrence College, the Rhode Island Department of Education, Thalia Kids Book Club Camp based out of Manhattan's Symphony Space, and the upcoming Orange County Children's Book Festival. She will continue to serve kids during the 2020-2021 academic year with a variety of virtual writing and book club program options for schools, libraries, and parents.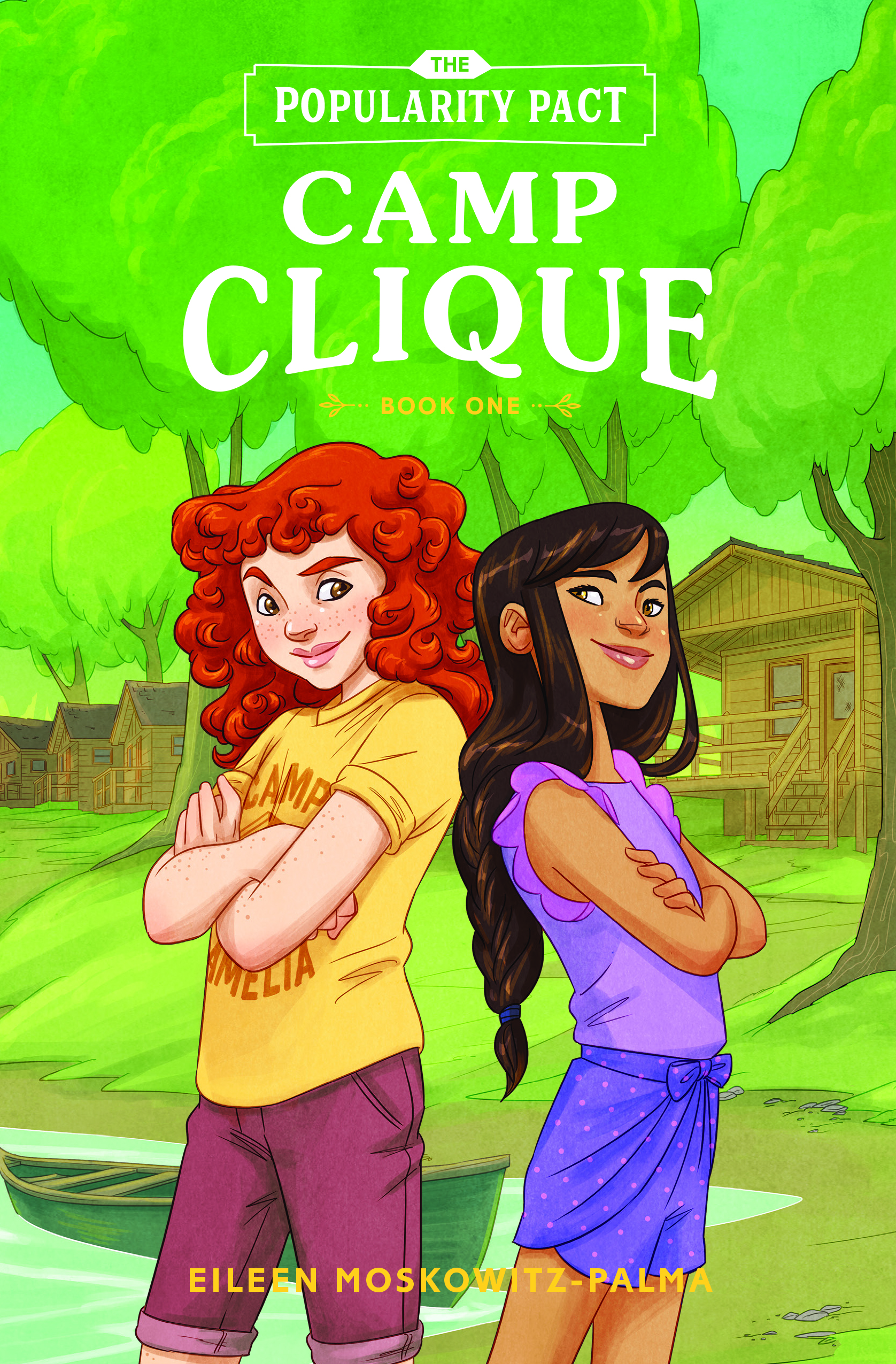 Camp Clique is about two former best friends, Bea and Maisy, who end up at the same summer camp—and in the same bunk—and neither is happy about it. In order to survive summer, they come up with a pact: Bea will help Maisy fit in at camp if Maisy will make Bea popular when they go back to middle school in the fall. It's a touching story of friendship, fitting in, and family dynamics that looks at the growing pains middle schoolers face and the stresses from outside of school that impact kids with honesty and heart all set against the backdrop of a summer camp. It's been called "a powerful middle grade novel about the difficulty of both forgiveness and trust, as well as the nature of true friendship," by School Library Journal and was recommended by Cindy Adams in her Page Six column.
The second book in the series, School Squad, picks up where Camp Clique left off and follows the girls as they head back to school to see how their pact plays out. It's being published in October 2020, and is perfect for back-to-school reading. Of the series' inspiration, Eileen explains: "Middle school is such a raw and vulnerable time for kids, and their social lives are fast-changing. I wanted to tap into the pain of being dropped by a friend, but also explore what happens when kids feel invisible in one world and find another place where they are seen and accepted for who they are. Even more so, I wanted to write about what happens when some of the painful parts of everyday life seep into those safe, more comfortable places. This is how the Popularity Pact was born."
Eileen Moskowitz-Palma lives in New York with her husband Douglas, their daughter Molly, and their Wire Fox Terrier Oscar, who is one snaggle-tooth away from being a doggy model. Learn more: https://www.eileenmoskowitzpalma.com/.